4 minute read.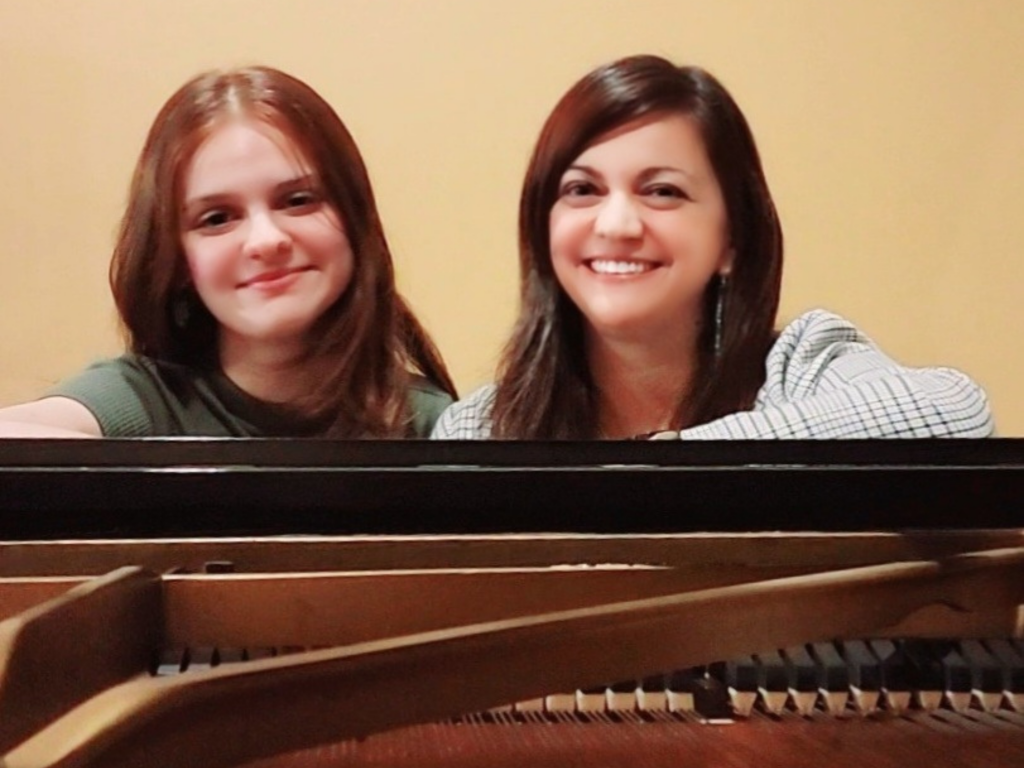 Through her blossoming artistry and with her inspiring musical family, both literally and at RSC, Elisa Plano has soared to the top! When Elisa, RSC student and daughter of RSC faculty member Paola Plano and pianist Roberto Plano, found out she was selected to perform piano for From the Top she exclaimed: "I was in shock! I was so excited to be having the opportunity of performing on such an important radio show. It is a privilege getting to record and share music with other young musicians my age who are on the same journey as me."
From the Top (FTT), a radio program that began in the 90's, has become the largest platform in America to recognize and celebrate the artistic contributions of young musicians. Elisa chose to perform "Barcarolle (Morning)" for FTT. The piece is from Nathaniel Dett's suite "In the Bottoms" and she chose to play it with the help of her mom.
Paola began teaching all three of her daughters (Elisa, Anna, and Sofia) piano around when they each turned five. Since she started her musical journey, Elisa shared: "My parents inspire me the most. They came to America with three children, one a baby, and on top of that, they knew they were going to a foreign country where none of their families resided. They left everything behind for a new life for them, but mostly for my siblings and me. That takes a lot of courage!"
Creating music has been a way to bring the Plano family together. Paola emphasized: "Sharing music with my daughters has always been something special but also natural at the same time. Watching them perform for the first time has been an incredible experience, like it is for every parent. But the truth is that every performance is always like the first one, or even more emotional now that they are older and they feel more responsibility. I always ask them to have fun, to enjoy what they are doing, and to be happy while playing. Together, these are the most important things for me."
By prioritizing her daughters' joy and love of music, something she extends to all her piano students, it has also allowed her children to expand and develop their unique, creative identities. For Elisa, she has not only found her artistic voice as a pianist, but also as a cellist and vocalist as well. Each instrument holds a particular meaning for Elisa: "My most favorite thing about playing the piano is that my whole family plays it as well. We have fun discussing pieces together and coming up with different fingerings and such to help each other out. With the cello, I love being able to control the sound of my instrument and tone in a different way than I can on the piano. My favorite thing about singing is trying out different styles of pieces to find the one I am most comfortable in and love the most! My cello teacher is Mr. Badalov and my voice teacher is Ms. Watanabe and they are amazing with me!"
Paola loves to see her daughters and piano students at RSC begin their musical path with her and enjoys following each of them on their journey. Though Paola's students have collectively won over 250 national and international awards (and still counting), she is guided by her primary teaching philosophy: "Every student is different. They have different personalities and different goals. My approach has to be catered according to the student in front of me and I really enjoy it. I feel a great responsibility to make every lesson special. It's also like building something important together starting from the foundation. I see the same for my daughters here at The Rivers School Conservatory: they study different instruments. They love their teachers and I am extremely happy to see that they are building such a great relationship with them."
Elisa Plano will be performing Nathaniel Dett's "Barcarolle (Morning)" for From the Top this November.