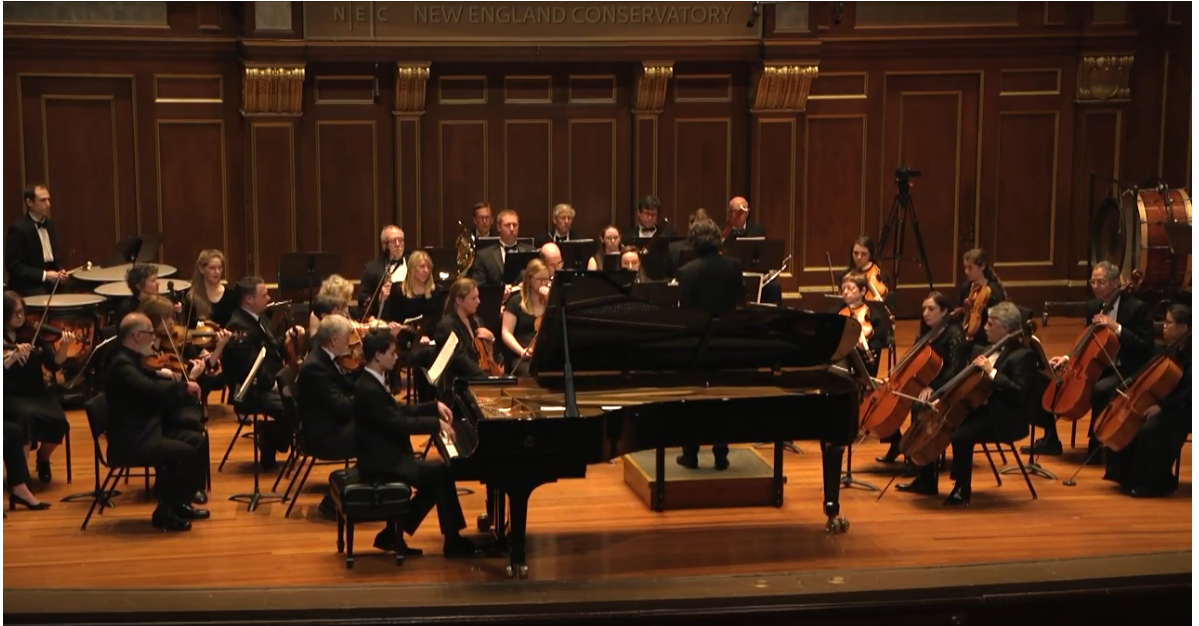 The Rivers Symphony Orchestra was established in 1996 to promote performance opportunities for talented adult and advanced students in the community.
Upcoming RSO Concert: Sunday, November 12, 2023
The Sunday, November 12, 2023 concert program:
Johann Strauss – Die Fledermaus: Overture
Antonín Dvořák – Slavonic Dance Op. 72, No. 2 and Humoresque Op. 101, No. 7 transcribed for solo violin, solo cello, and orchestra by Oskar Morawetz, Jin Joen and Eugene Kim, soloists
Jean Sibelius – Symphony No. 2
2023-24 RSO Concert Dates
Sunday, November 12, 2023 @ 3:00 PM (The Needham Town Hall)
Sunday, March 10, 2024 @ 3:00 PM (Christ Episcopal Church, Needham)
Saturday, May 18, 2024 @ 7:00 PM (The Rivers School, Kraft Dining Hall)
General admission is $20/ticket and student tickets are $10/ticket. Please complete and submit the form below to purchase your tickets for our next concert.
The Rivers Symphony Orchestra was founded in 1996 by then music director David Tierney. David realized that the strength of any orchestra was to have a strong string section. David had some of the string faculty of Rivers join the orchestra and they remain a part of the orchestra to this very day.
As the orchestra grew in numbers as well as musicianship, the orchestra started playing more challenging works. In 2016, the orchestra celebrated its twentieth anniversary with a Pops concert.
We are a growing orchestra and are always introducing new music into our repertoire.
Christopher Memoli is the Music Director of the Rivers Youth Orchestras and conducts the Rivers Youth Symphony Orchestra. Under his direction since 2001, the RYO program has grown from one elementary orchestra to over 300 students in five orchestras. In addition to his responsibilities at the Rivers School Conservatory, Mr. Memoli serves as the Director of Music for the Weston Public Schools where he supervises the K-12 music program and teaches high school band and orchestra. Since 1998 in Weston, Mr. Memoli has overseen the development of what is now one of the most outstanding music programs in the State of Massachusetts. He is the former Orchestra Director at John R. Lewis High School (formerly Robert E. Lee High School) in Fairfax County, VA. During his tenure at John R. Lewis High, he built an outstanding and award winning orchestral program. Mr. Memoli is the former Music Director of the Youth Orchestras of Prince William, a large multi orchestra youth orchestra association located in Northern Virginia. In addition to serving as the Music Director, he served as the conductor of the award winning Youth Symphony Orchestra.
Mr. Memoli holds the degrees Bachelor of Music Education and Master of Music in Conducting from the University of South Carolina. In addition, he holds a graduate degree in Educational Administration. Mr. Memoli studied violin with Donald Portnoy, Luis Haza and Robert Gerle and conducting with Donald Portnoy, Harold Ferberman, Daniel Lewis and Lukas Foss. Mr. Memoli has been a Head Director for American Music Abroad Honor Bands and Orchestras since 1995. He is in demand as a guest conductor, adjudicator, freelance violinist and violin teacher. Mr. Memoli is a past chairperson of the Massachusetts Music Educators Association-Eastern District and currently serves on the Executive Board. In addition, Mr. Memoli is Past-President of the Massachusetts and Virginia Units of the American String Teachers Association (ASTA). Mr. Memoli was named the 2008 Massachusetts Orchestra Director of the Year.
The RSO has openings for the following: Violin, Viola, and String Bass. Interested musicians should contact Ensemble Manager Bruce Goody (bpgoody@gmail.com) to set up an interview. The RSO rehearses on Mondays from 7:30-9:30 p.m. during the academic year.
---