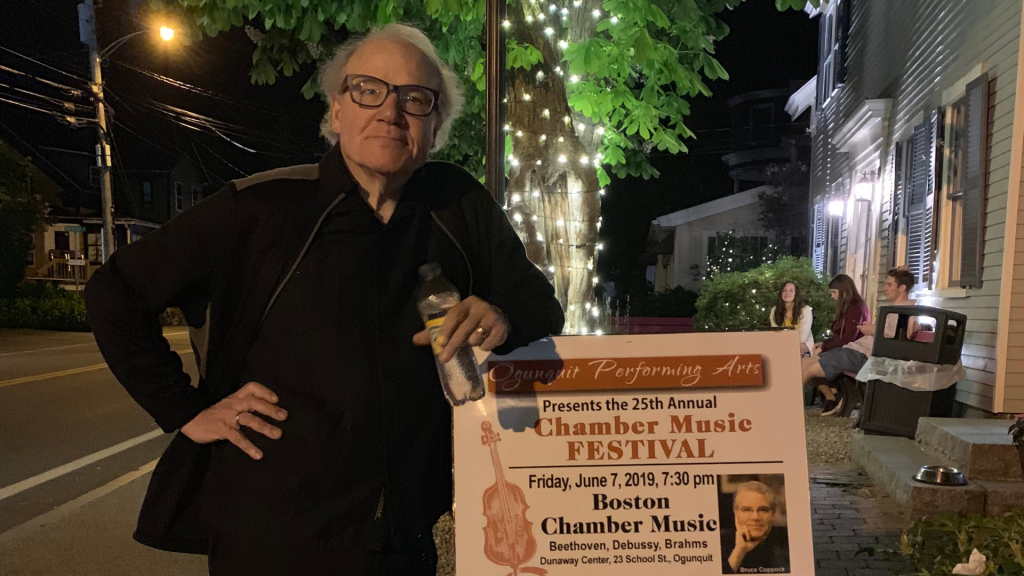 Bruce Coppock – the cellist, orchestra executive, and RSC chamber music luminary – leaves behind scores of colleagues, collaborators, and students who counted him a friend.
"This nuance gets lost when we talk about Bruce as a giant in our field," offered Jon Limbacher, who succeeded Coppock as managing director and president of the Saint Paul Chamber Orchestra. "What was special about Bruce was that he didn't suck all the air out of the room. He was curious. He was kind. He loved to see people thrive."
At first, Coppock himself was on course for a successful performance career, both as a young freelancer and a co-founder of the Boston Chamber Music Society (BCMS). Then came a terrible accident in the late 1980s. As violist Marcus Thompson recalled, Coppock's car was t-boned on the driver's side, leaving the New England Conservatory graduate with several fractures to his left hand.
"It was a musician's nightmare," said Thompson, a BCMS member since 1984 and the group's artistic director since 2009. "Bruce was a skilled player, skilled enough to work around town and sub with the Boston Symphony Orchestra."
Coppock was extremely diligent about his recovery. He researched top surgeons. He did physical therapy exercises for six hours per day. As Thompson saw it, Coppock's recovery was well underway when BCMS toured to Canada many months later. "I believe we were playing the Beethoven Septet, which has a huge cello solo," Thompson added. 
Thompson recalled Coppock playing at a very high level on that tour. Thompson also remembered Coppock being the only cellist. "After the last performance, I went over to congratulate him. I looked at him and said, 'Are you in pain?' And he said 'yes.'"
In Thompson's memory, Coppock didn't hesitate before adding: "This is my last concert. I'm not going to play professionally anymore."
Soon, Coppock was off to the Midwest for a full-time role as operations manager with the St. Louis Symphony Orchestra. By then, the avid chamber musician had plenty of experience as an arts administrator. Even while playing cello for BCMS, he served as the group's executive director between 1982 and 1990. Coppock had also kept busy as a cello and chamber music teacher, with posts at Boston Conservatory, Longy School of Music, and more. Between 1985 and 1990, Coppock directed both the chamber music and orchestral studies programs for New England Conservatory.
But Coppock's administrative career really took off once he quit performing and teaching. According to his wife, violinist and RSC faculty member Lucia May, Coppock was promoted to executive director of the St. Louis Symphony Orchestra within 18 months of his arrival. He held that post from 1992 to 1997.
Coppock was deputy director at Carnegie Hall from 1997 to 1998. Next came a role with the League of American Orchestras, where Coppock served as founding director of the Orchestra Leadership Academy. He also directed the Cleveland Orchestra's Miami residency in 2011 and '12. But it's little wonder that Coppock, with his lifelong devotion to chamber music, made his biggest splash as president and managing director of the Saint Paul Chamber Orchestra (SPCO), the country's only full-time professional chamber orchestra. He led the SPCO twice, from 1999 to 2008 and 2013 to 2015.
As Limbacher tells it, Coppock saw these leadership posts as privileges that should never be squandered. "The template for him was – you form a vision, you have a conviction for that vision, and then you're fearless in advancing that vision," Limbacher said.
As for Coppock's vision, Limbacher believes it was deeply influenced by events in St. Louis. In 1989, voters there rejected a measure for adding the symphony to the Zoo Museum District, a governmental entity which distributes public dollars (collected via property taxes) to local cultural institutions. "That had a huge impact on Bruce," recalled Limbacher, who also worked with Coppock in St. Louis. "It was a realization that the orchestra wasn't as resonant in the community."
Coppock went on to stress community relations throughout his Missouri tenure, even leading the orchestra's first-of-its-kind merger with a community music school.
Another philosophical throughline concerned the role of musicians. According to Limbacher, Coppock took to citing a 1990s survey of various U.S. occupations, with orchestra musicians registering surprisingly low rates of job satisfaction (lower than prison guards, as Limbacher noted). "Bruce believed it was because they weren't empowered," Limbacher said. "He really wanted to change that."
Coppock's SPCO legacy represents his most radical move toward musician empowerment. Under his leadership, the organization eliminated its music director position in 2004, becoming a musician-led ensemble with a rotating cast of artistic partners.
Today, the SPCO beautifully represents all Coppock stood for. It boasts adventurous programming and some of the finest orchestral playing in the country. At the same time, it offers the cheapest tickets of any U.S. professional orchestra, starting at just $11 per concert (thanks to generous donor and foundation support). In a recent blog post, SPCO Artistic Director and Principal Violin Kyu-Young Kim wrote: "It is no exaggeration to say that no single person had a greater role in the SPCO's artistic trajectory over the last 20 years than Bruce Coppock."
Eventually, Coppock drew something of a full circle in his career, with the next chapter informed by yet another health crisis. Coppock was diagnosed with an aggressive form of bile duct cancer in 2006. According to Kim, cancer compelled Coppock to reprioritize that which gave him joy in life. "Certainly making music and teaching were at the top of that list," Kim said.
That's why Coppock resumed working with music students while living in Minnesota. It's also why he picked up his cello again. According to May, fundraising was the impetus, at least initially, after an SPCO donor purchased a live performance by May and Coppock of Kodály's Duo for Violin and Cello. From there, he never stopped practicing or looking for opportunities to play chamber music with players young and old. May said he even reworked his left hand to compensate for anatomical changes due to the car accident.
Coppock's health also accounted for his 2018 move back to Boston, with its high-quality medical care. To his delight, the region still boasts one of the country's richest classical music scenes.
"It was like 40 years had never happened," said pianist Randall Hodgkinson, a college classmate who now teaches at Wellesley College and New England Conservatory. "Suddenly Bruce was back and he wanted to do some chamber music."
Coppock acted as a consultant for area arts organizations including A Far Cry and Handel and Haydn Society. In 2019, just after Coppock became chair of the RSC chamber music department, he was hospitalized with a severe case of sepsis. "He told his doctors that if he survived he'd play a concert of Bach Cello Suites for his 70th birthday," May shared in an email.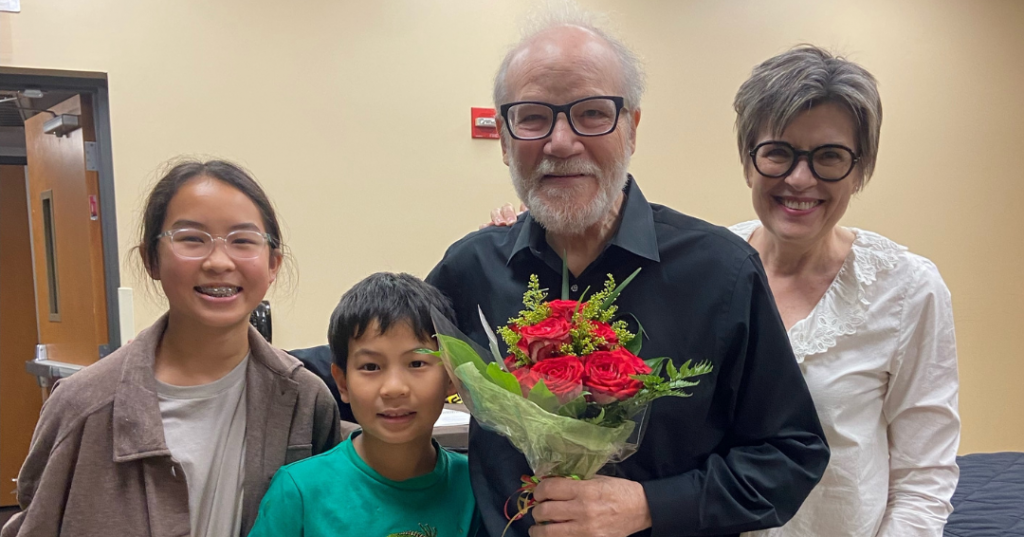 Coppock kept his promise on September 19, 2022, with a program at Salem State University. Just nine weeks before his death, Coppock performed Suites Nos. 1 and 2 for solo cello by J.S. Bach (with all the repeats, from memory).
According to violinist and RSC faculty member Zhongling Li, Coppock nearly canceled that event – the cancer was back, and he'd been sick since the spring. "But he was so brave and always so strong," Li said. "He prepared for quite a long time. I guess he didn't want to give up."
Li was in the audience that evening with her two children, both young musicians with a fondness for Coppock. "It was very special," Li said of Coppock's work on the cello. "It was a baroque type of performance. The phrasing was really interesting – a flowing, natural kind of phrasing."
From the second suite, Li could see that her friend was struggling to breathe. "We felt so bad for him," she said with a whisper. "But he didn't make any mistakes. He just kept going."
Bruce Coppock Memorial Concert
Featuring students from ChamberMusicLab
7:30 p.m., Feb. 4
RSVP here
Bradley Hall – Ramon Rivera Recital Hall
The Rivers School Conservatory
333 Winter Street, Weston
If you would like to honor Bruce with a gift to the ChamberMusicLab and Special Projects Fund in honor of Bruce Coppock, please click here.
Christy DeSmith was an assistant arts editor for both the Boston Globe and the Star Tribune in Minneapolis. Her daughter, Lydia, studies with RSC piano faculty member Soomi Lee.