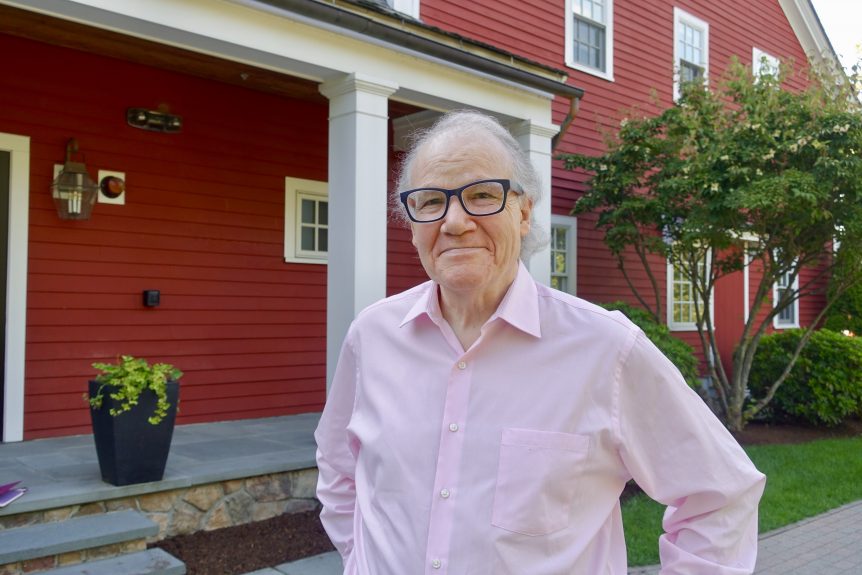 Bruce Coppock's tenure at The Rivers School Conservatory was short, but his impact was mighty.
"He pushed us to think big and be ambitious," said RSC Director Gabriella Sanna.
"He provided an example of being bold and going for it," said Ronald Lowry, a longtime member of the RSC cello and chamber music faculty.
The RSC community now grieves this magnetic teacher, musician, mentor, and friend. Coppock, a cellist and retired orchestra executive, died November 21 after battling cancer for 16 years. He was 71. Since 2019, Coppock has been far more than an RSC employee – he was a fount of inspiration and guidance at the school. The most visible piece of his RSC legacy is ChamberMusicLab, an intensive program for talented young musicians.
Coppock's introduction to RSC came via his wife, violinist Lucia May, who joined the teaching faculty in 2018. "I offered her a job and she said, 'By the way, if you ever need help with chamber music my husband is really good at it,'" recalled Sanna, an RSC veteran who became director that very year.
Within months, Sanna was searching for candidates to chair the school's chamber music department. Coppock, a life-long chamber music devotee, applied immediately with an enthusiastic email. Attached was his resume, a jaw-dropping document studded with leadership posts for the Saint Paul Chamber Orchestra, St. Louis Symphony Orchestra, Cleveland Orchestra, and Carnegie Hall.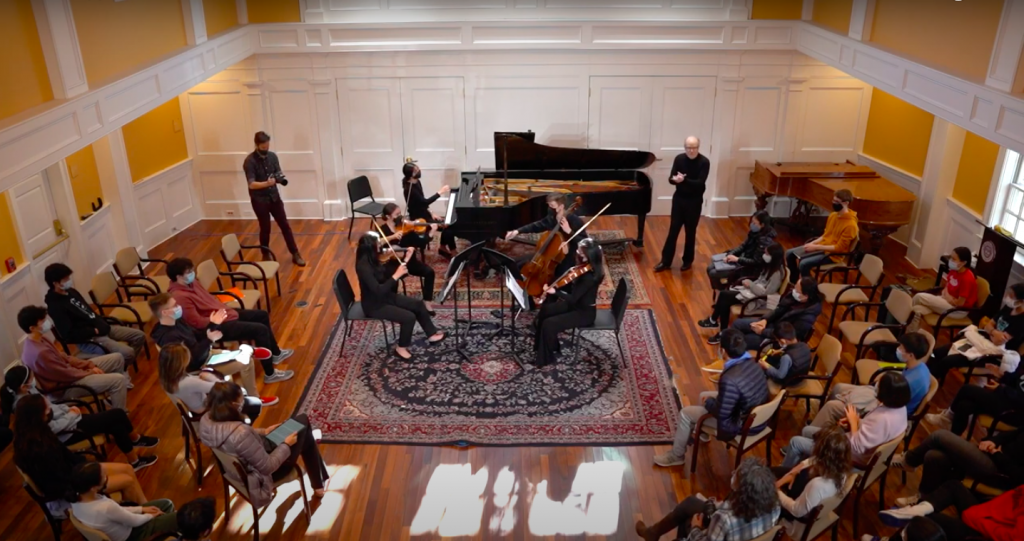 Coppock became chair of the RSC chamber music department shortly thereafter. By late 2020, the school fully absorbed ChamberMusicLab, founded by Coppock and May many years earlier, back when he was president and managing director of the Saint Paul Chamber Orchestra.
The program was originally an outgrowth of May's Twin Cities violin studio. As her students advanced, Coppock started organizing the teens and their siblings into chamber groups, while the couple also offered masterclasses and immersion in the rich musical world of the SPCO (the country's only full-time professional chamber orchestra). Their sprawling Minnesota home "turned into a music conservatory on weekends," May wrote in an email, "filled with violin lessons, chamber coachings, and piano rehearsals."
ChamberMusicLab saw new iterations following Coppock's 2016 retirement. First the couple relocated to Rhode Island, quickly filling another big house with ambitious young players. But Coppock's health soon necessitated a move to the Boston area, with its concentration of specialized health care.
At RSC, high-school musicians (and a few superlative middle-schoolers) started auditioning for the tuition-free program just as COVID-19 restrictions eased. This was made possible by robust safety protocols, implemented under the guidance of health experts with The Rivers School. "All the other performing arts groups in Boston were still shut down," Lowry remembered. "There was no live music happening anywhere except at Rivers."
Admission to ChamberMusicLab was highly competitive – and reserved for the highly committed. Participants spent a semester's worth of Saturday mornings diving into a single masterpiece of the chamber music repertoire. "Unlike similar programs, this one emphasized getting to know an entire work," noted Interim ChamberMusicLab Director Jason Fisher, whom Coppock himself coached over the past year and a half as his successor. "That was really important to Bruce."
Pianist Gaeun Lee was a student at Belmont High School when she was accepted into ChamberMusicLab. She relishes the memory of studying the hefty Brahms piano trio in B major under Coppock. "I remember him singing all of the distinct melodies and asking us to sing as well," Lee said. "He was really dynamic in his teaching. He took the time and effort to make us understand what we were playing."
Cellist Lot Bates, another former Belmont High School student who participated in ChamberMusicLab, was offered private lessons with Coppock. "He laid down a framework for a four-hour daily practice session," recalled Bates, now a student at Columbia University. "Although it was a chore, I felt passionate about doing it because of Bruce. He was a big motivator for me."
Every now and then Coppock would remind Bates that he was retired, technically speaking. "But he still wanted to teach," Bates recalled. "He wanted to spread his passion for classical music."
As RSC colleagues observed, Coppock's program saw impressive results. "The students were outstanding," Lowry said. "You'd think you were listening to college players."
"Bruce brought a very, very high standard," Fisher added. "Not only for how the students engage, but also for who gave masterclasses. Bruce planted this program at Rivers not as a seed but as a healthy tree that will only become stronger and more beautiful over time."
It didn't take long for Sanna to recognize the "goldmine" of knowledge and administrative experience Coppock possessed. In the spring of 2021, she hired him for additional services as a consultant, partnering on an RSC strategic plan to roll out in years to come (following approval by The Rivers School board in early 2023).
As Sanna recalled, this provided more occasion for Coppock to push for big, ambitious thinking. "Bruce would say, 'Never say no to your dreams – let other people say no. Dream big and great things will happen.'"
His fingerprints will be especially evident in initiatives that empower RSC teaching artists, Sanna promised, with ChamberMusicLab providing the perfect test case. "It sets an example for how powerful a faculty-led initiative can be," Sanna said. "He wanted the artists to have a much more active role, to have agency in the artistic choices. The effects of this work will be felt for many, many years."
But Coppock will be remembered for so much more than his work.
For Lee, Coppock was the rare adult she could really talk to. "Bruce was the first teacher I considered a friend," she said.
For Fisher, Coppock was a kindred soul. "We hit it off and had an immediate connection to the music. Bruce and I had a friendship that developed very quickly and very deeply."
For Sanna, Coppock was a mentor like no other. "I've been lucky in my career to have good mentors," she said. "But with Bruce I felt like a kid in school again. Every moment with him was precious."
In honor of Coppock, the Feb. 4 ChamberMusicLab concert will feature guests who can speak to a storied life and career – from Coppock's years as a New England Conservatory student and freelance cellist, to his decades as an arts executive, to his brief time at RSC.
But the concert's focus will be the hard-working musicians of ChamberMusicLab. "It was specifically Bruce's request that this memorial concert highlight the work and the achievements of the students themselves," Fisher said.
Each of the six current ChamberMusicLab ensembles will perform one movement from the works they studied during fall semester. On the program are Beethoven, Mendelssohn, Mozart, Schubert, and Weber. Sanna believes it's the best way to remember a man who pushed RSC students and faculty to new heights. "I want this concert to be a heartfelt, true tribute to Bruce and all he gave us," she said.
Bruce Coppock Memorial Concert
Featuring students from ChamberMusicLab
7:30 p.m., Feb. 4
RSVP here
Bradley Hall – Ramon Rivera Recital Hall
The Rivers School Conservatory
333 Winter Street, Weston
If you would like to honor Bruce with a gift to the ChamberMusicLab and Special Projects Fund in honor of Bruce Coppock, please click here.
Christy DeSmith was an assistant arts editor for both the Boston Globe and the Star Tribune in Minneapolis. Her daughter, Lydia, studies with RSC piano faculty member Soomi Lee.