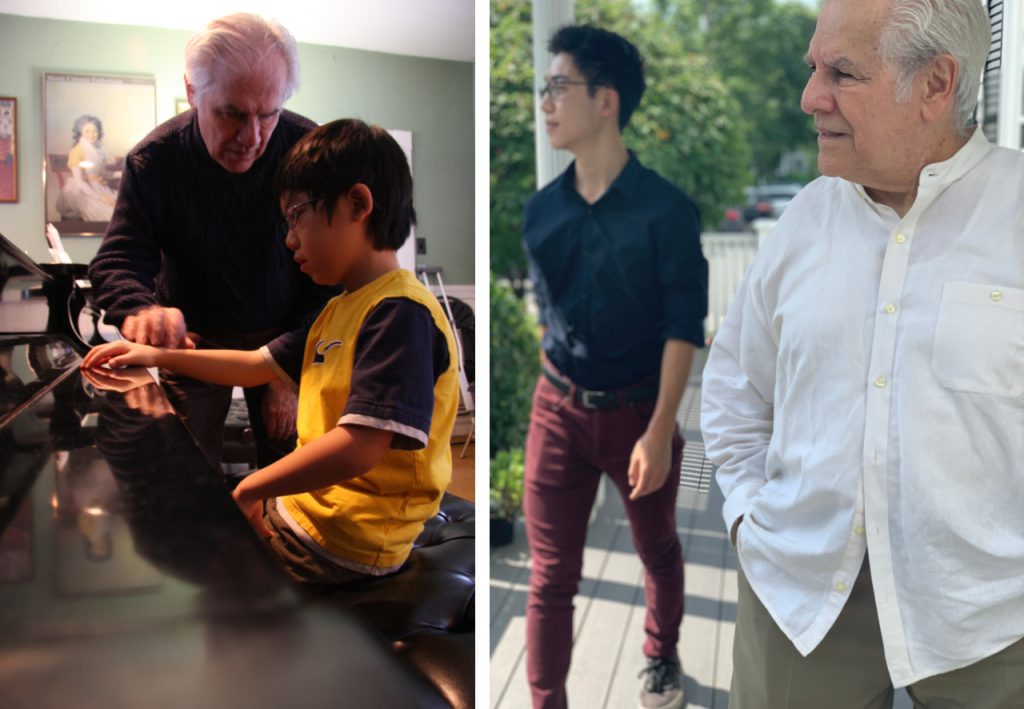 At The Rivers School Conservatory, relationships add meaning to music education. As they share in students' musical journeys, RSC faculty members model The Rivers School's mission of Excellence with Humanity.
Here, we turn the spotlight on one student-faculty pair who illustrates the importance of mentorship in musical excellence, as they discuss their relationship, their favorite shared memories, and what they've learned from one another.
A. Ramón Rivera & Theo Teng

Director emeritus and beloved piano instructor A. Ramón Rivera has known RSC student Theo Teng since he was a baby listening in on his older siblings' lessons. Theo, now 16, began his own studies with Mr. Rivera 10 years ago, and the two have stuck together ever since. "I love the fact that we started together," says Rivera. "I have no idea what Theo is going to do in the future. He may be a scientist or a great doctor, but I know that what he's done has been important for the rest of his life. Whatever he chooses, he will always be a wonderful pianist."

Theo

What is the greatest gift that Mr. Rivera has given you?
The love of music. From a very young age, Mr. Rivera taught me how to listen to myself, how to read into the music past the notes, and how to connect with the music and the composer's intentions. My love of music has been there from a very young age, and it's only grown since then.

Do you remember your first impressions of Mr. Rivera?
He's genuine with himself and with everyone he interacts with. As a little kid, I found that very refreshing, because he was an adult who seemed to always tell me what he really thought. I felt like I was interacting with a sincere person and not an adult who was talking down to me.

If Mr. Rivera had a theme song, what would it sound like?
It would have to be fun. He has a sense of humor, and he has boundless energy. It has to be full of life and have lots of different colors. And it has to have structure, because he knows too much for it to be unstructured.

Mr. Rivera

Do you remember your first impressions of Theo?
Theo comes from a family of brothers and sisters who were all very musical, and I think that as Theo was listening to people practicing at home, he was just becoming the musician that he is. A lot of what I love about Theo has to do with what he brings. Ultimately, I'm most interested in the person and making sure that person doesn't disappear, ever.
What attributes do you think have contributed to his success as a musician?
Intelligence is big. He's got a huge brain. Most of my kids are far more intelligent than I am, and I learn more from them than I think I teach. I am a better teacher because of my students.

What does it look like to choose repertoire for Theo?
Sometimes I choose a piece for Theo because he needs it technically. Other times, I choose something because I can't wait to hear him play it, and I know he'll connect deeply with it. Unfortunately, 10 years is not enough time for everything I want to give him, but most of my students from throughout the years remain in close touch and are still in my life.