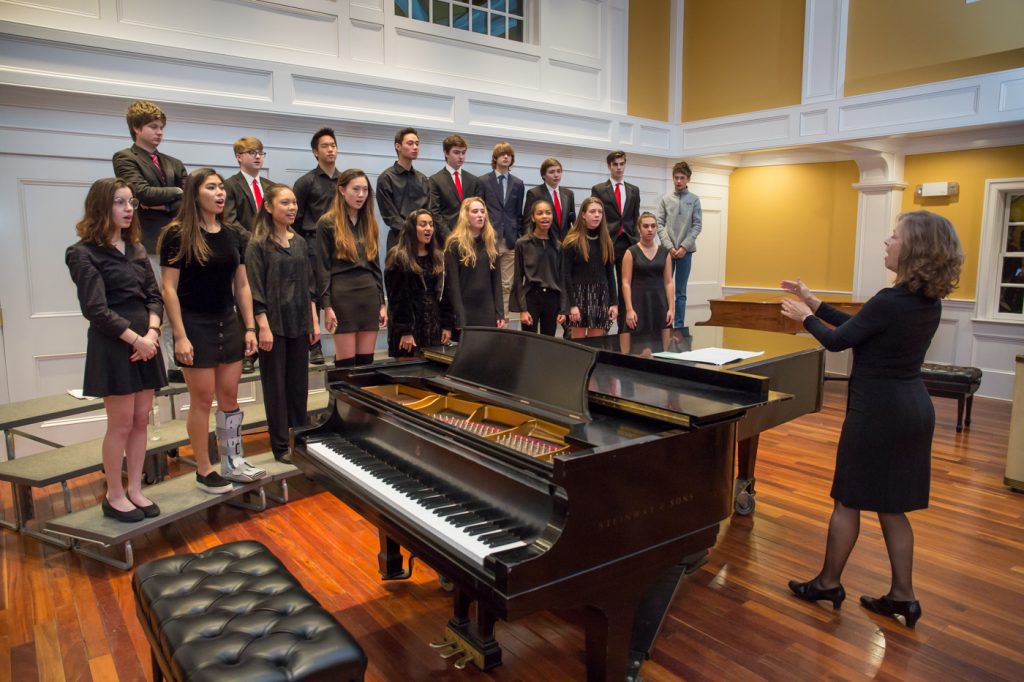 Founded by David Tierney in 2003, the Conservatory Program at The Rivers School provides middle and high school students with a one-of-a-kind college preparatory experience. Tierney designed the program for students with a serious interest in and aptitude for music, with the purpose of supporting growth in both music and academics. Today, it does just that, with students matriculating to such notable colleges and conservatories as Berklee College of Music, Oberlin College, New England Conservatory of Music, Brown University, and The Royal Academy of Music in London.

Since its creation in 2003, the program has grown in size from seven students to over 30 Upper School students and 14 Middle School students. Dan Shaud leads the program, coordinating classes including music theory, performance, and composition and scheduling frequent performance opportunities, on and off-campus. Most recently, Conservatory Program students presented a Music for Food concert to benefit A Place to Turn Food Pantry on Saturday, November 16th. Shaud says that this annual fall concert which displays "the whole scope of the program – classical and jazz, vocal and instrumental, middle school and upper school – all in one evening," is one of his favorite moments of the school year.

Continuing to speak about what he enjoys most in the Conservatory Program, Shaud says, "It's inspiring to see the growth and potential in young students as they progress through the program. It's also heartening to be in touch with alumni who are continuing to grow in their love of music in college and their lives beyond." Joseph Nedder '18 is one such alum who has continued to prioritize music following his graduation from Rivers. Nedder is currently pursuing a Dual Degree at Northwestern University's Bienen School of Music and Weinberg College of Arts and Sciences, where he is majoring in Jazz Studies (trombone) and Political Science. He also plays with the Northwestern Jazz Orchestra and Northwestern Jazz Small Ensemble and sings with an all-male a cappella group called Freshman Fifteen. Nedder will be returning to Rivers and RSC on Saturday, December 7 for the first-ever Holiday Pops, where he will perform with the Honors Big Band as a featured guest artist. He says, "I can't wait to be back at Rivers and maintain my connection with the Conservatory – a place where I developed my passion for music through the Conservatory Program."

The Conservatory Program is currently welcoming applications from prospective students and families. Interested students must submit an application to The Rivers School, as well as to the Conservatory Program. In addition to these two items, applicants must submit two music-related letters of recommendation and participate in an audition on the morning of Saturday, February 1, 2020 for jazz studies or Saturday, February 8, 2020 for classical and vocal studies. When asked what type of applicant would thrive in the Conservatory Program, Shaud describes "an enthusiastic student who wants to find a way to balance a serious interest in music with a serious interest in academics. He or she will be sure to find like-minded, motivated friends within the program who will help him or her develop fully as a musician and student in a nurturing, caring environment."

Click here to learn more about the application process for the Conservatory Program at Rivers.