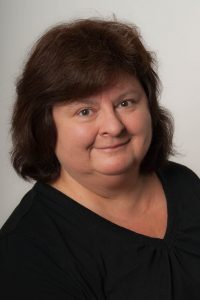 "Deep kindness," "incredible fairness," and "high standards" for Musical Excellence are among the descriptors that colleagues use to describe Magdalena Richter, Violin Faculty and Chair of the String Department. Just weeks from now in January of 2020, Magdalena will take the life-changing step of joining a contemplative order of Catholic nuns, Poor Clare Nuns, in Andover, MA. As The Rivers School Conservatory reckons with this loss, the community reflects on her many wonderful qualities and contributions.

Introducing a trait that Magdalena's friends and colleagues value most, violin faculty member Marta Zurad says, "She was my violin mentor." The two met while Marta was teaching at Longy School of Music, where Magdalena was invited to listen to concerto competitions and give master classes. From the start, as Marta observed Magdalena's teaching, she knew that Magdalena "was somebody special" whose musical opinions she could trust. In addition to her undeniable musical talent as a graduate of the Warsaw Academy of Music and The Juilliard School, Magdalena's exceptional honesty gives weight to her words of advice, feedback, and support.

"It's sometimes not popular to note when music is out of tune or not up to par," says Marta, "but if you want to move forward, you have to hear it. You knew that Magdalena would say it." Always keeping student growth in mind, Magdalena spoke candidly and fairly in the context of evaluations and workshops about what students could be doing to improve. She could also provide "a supportive and gentle hand" when needed. Caring is a second trait that colleagues use to describe Magdalena. Violin faculty member Tiffany Pomeroy says that Magdalena "was always concerned about how the student was feeling and how happy the student was." Providing an example of her kindness, Tiffany shares, "If I had a student who was feeling insecure, Magdalena would offer to have them play at the very end of the workshop after everyone else left." It is these moments of compassion and empathy that Magdalena will be remembered for.

Like Marta, Tiffany describes Magdalena first and foremost as a mentor to other teachers. In fact, early in Tiffany's career she participated in a pedagogy class that Magdalena taught to a small group of teachers at RSC. The class met for three hours weekly for over two years. During their sessions, each teacher brought two of their violin students. During the classes, Magdalena taught sample lessons to each student, working on specific skills such as string-crossing or vibrato. Through observation of Magdalena's curriculum and methodology, Tiffany and her peers learned together to become better teachers. Tiffany reflects, "It was the best thing I've ever done for my career."

When asked what makes Magdalena's teaching style stand out, Tiffany speaks to her high level of organization. She says that Magdalena's pedagogy is "systematic. Everything was in preparation for the next technique or level." Tiffany also speaks to the flexibility that complemented Magdalena's structure: "She would push her students, but she was always sensitive to students' emotions and aware of when to step back."

Marta echoes this appreciation of Magdalena's good judgment, commenting on her "incredible wisdom of knowing what was appropriate to say and when, to a student or to us." Marta also praises Magdalena's sense of humor and the high standards that she set and stuck to. She says of Magdalena's high expectations, "She never bent." As a result of her persistence and faith, students and faculty under her leadership rose to the challenge and achieved impressive results. RSC Director Gabriella Sanna says, "Her arrival here transformed the string department completely." For all of these wonderful qualities, Magdalena has become an inspiring and beloved figure in The Rivers School Conservatory community.

Called "a rock, a pillar, a heart, and a foundation" by Marta, Magdalena is a presence that people rely on and believe in, and she will be greatly missed. As her final day at RSC approaches, the Conservatory is wishing her the very best in her upcoming journey. Piano faculty Lilit Karapetian says that while she is sad to hear of Magdalena's departure and will miss her greatly, she is "glad that Magdalena has found her calling, her spiritual balance, and her peace. It is comforting to think that someone like Magdalena will pray for people – for us."

If you would like to join The Rivers School Conservatory in celebrating and honoring Magdalena, please join us on Friday, January 10, 2020 at 7:00 PM in Bradley Hall for a farewell concert and reception.