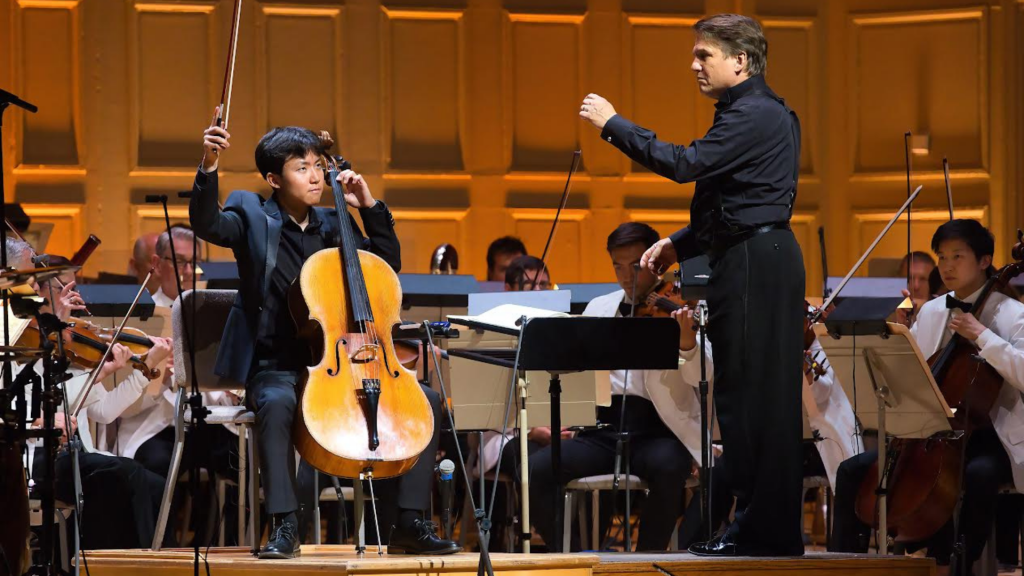 "When I play the Shostakovich," expressed Brian Lee, "it feels like I have a real purpose as a cellist."
Lee, who has been studying with RSC faculty member Eugene Kim since he was eight years old, won one of the five grand prize spots at the 2023 Fidelity Investments Young Artists Competition. With cello and bow in hand, he took to the stage of Symphony Hall with Keith Lockart and the Boston Pops on June 6, 2023 and gave a powerful performance of the first movement of the Dmitri Shostakovich Cello Concerto No. 1 in E-flat major, Op. 107.
"Playing with an orchestra of such high caliber conducted by the esteemed Maestro Lockhart helped me realize the true magnitude of the Shostakovich Cello Concerto," says Lee, "and enabled me to express emotions that I didn't think were possible to bring out inside me beforehand."
Advancing to the Fidelity Competition's live auditions was no easy feat, especially with nearly 100 other applicants, but Lee distinguished himself with his interpretation of Shostakovich's magnum opus, which Kim described as: "a true virtuosic and interpretive test." Shostakovich's Cello Concerto, originally written for his friend and world-renowned cellist Mstislav Rostropovich, was premiered by Rostropovich and the Leningrad Philharmonic in 1959.
The voices in this strikingly orchestrated work come together to tell a heart-pounding story. "The first movement," says Lee, "is a unique piece in the sense that it focuses on struggle during a time of deep oppression—I felt that it was very reflective of what is going on in many parts of the world today, especially with the invasion of Ukraine."
With each bow stroke, Lee revealed the layers of rage and intensity throughout the work, making the movement come alive in the historic Symphony Hall. Kim describes seeing Lee's performance as "a tremendous experience… he was able to make a real artistic statement. What the audience saw that night was 11 years of dedication and hard work in the making."
Lee's Boston Pops debut was a true testament to how he has grown artistically, something that has also highlighted the heart-warming journey he has shared with Kim. "I began studying with Eugene when I was eight years old," says Lee, "and he is my first and only cello teacher to date. I will never forget how he continued to stay by my side even during the last warm-up before I went on stage, ensuring that I would step on stage feeling good and confident."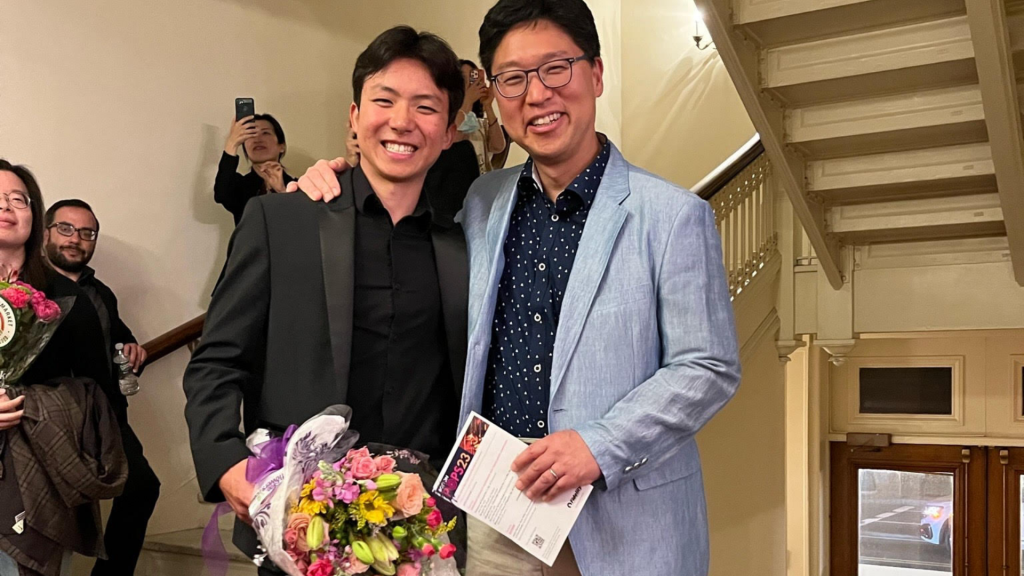 "It's been gratifying to see Brian develop from being a talented beginning cellist to becoming a communicative musician," says Kim. "What stands out about Brian is his stamina for refining his interpretation for each piece."
Lee's artistic voice is inspiring and he does not back away from the unconventional. "After the performance," Kim says: "Maestro Keith Lockhart told me that the Shostakovich is definitely not typical Pops repertoire!"
Sharing the stage with Lockhart and the Boston Pops is an experience like no other and something that will stick with Lee. "I will cherish all the great memories I made during the rehearsals, master classes, and of course the final performance for the rest of my life," says Lee, "I'm extremely grateful that I was able to have this wonderful opportunity, and I would really encourage all local musicians to give it a shot as well."