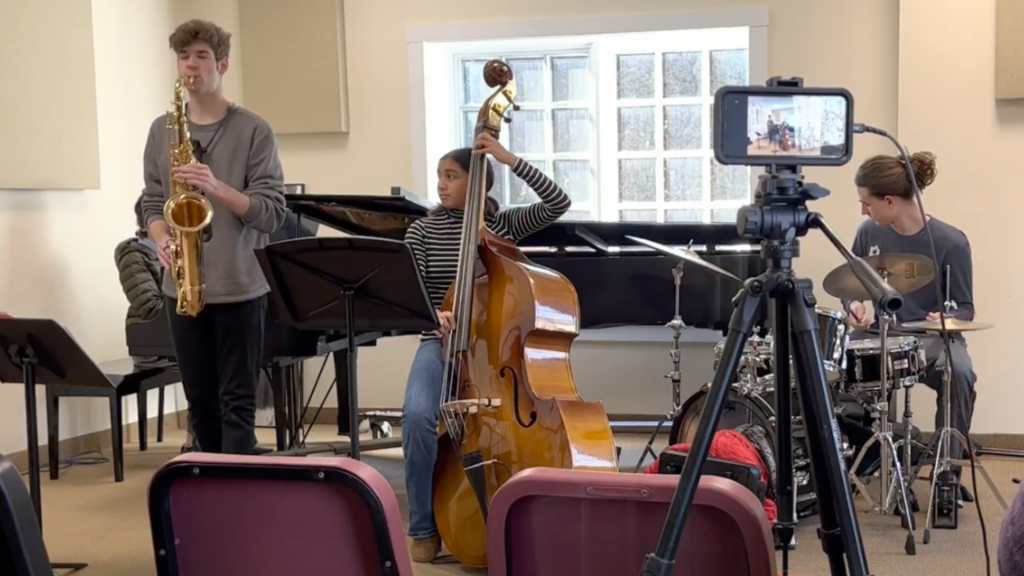 Listening to jazz musicians dance across new soundscapes through improvised notes and rhythms is so mesmerizing, you wonder how they do it. A lot of practice goes into improvising. The audience may not realize this but the musicians are well aware, after they take the first plunge into jazz improvisation and meticulously fine-tune their technique.
Regardless of their prior experience with jazz, students in The Rivers School Conservatory's (RSC) jazz combos gain a detailed understanding of jazz and music theory that empower them to be their own artistic leaders while also creating a supportive and creative environment with their bandmates. Studying jazz in the RSC combos exposes students to a variety of jazz styles and emphasizes improvisation at all levels.
RSC jazz students meet after school with their peers and coaches to master new skills and find joy in collaboration. "Our jazz faculty," says RSC Jazz Department Chair Philippe Crettien, "prepare students for a life-long love of jazz and career in music. We love sharing best practices taught to us by our mentors and through our performance experiences."
Dan Loschen, assistant chair of the jazz department, adds that an important feature of the RSC jazz curriculum is that students learn improvisation on Day One: "Improvisation is a skill students can enjoy from the first time they try it, and yet continue to study and learn about it for the rest of their lives. Like any complex skill, it needs to be practiced regularly… [and] needs to be the main focus of the rehearsal. Our faculty work with students just starting out with a basic blues-scale improvisation, through intermediate approaches using modes and other scales, up through the most challenging approaches of today's jazz scene."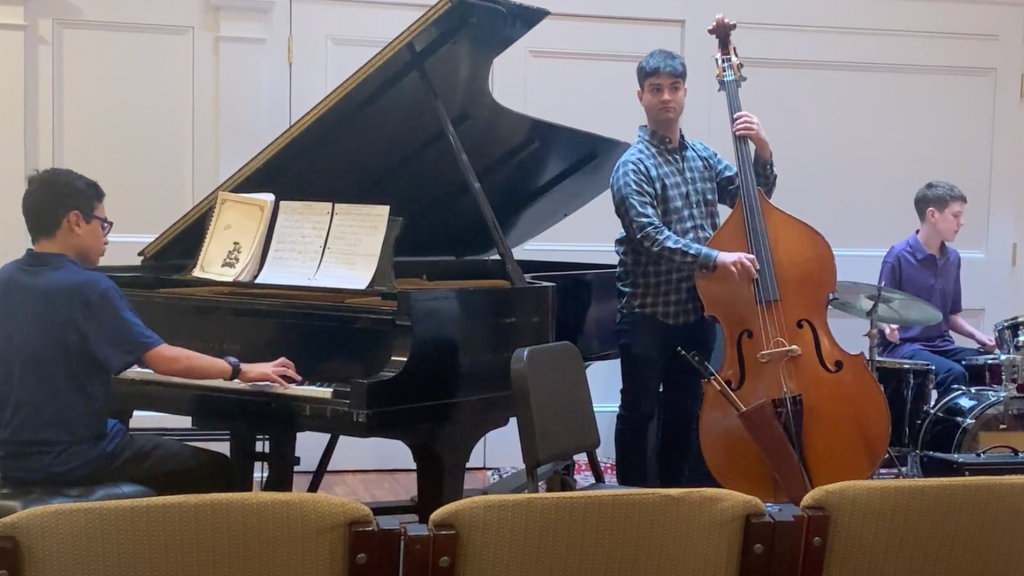 As the year unfolds, each musician gains greater technical fluency on their instrument through collaboration with their ensemble members. Loschen said that "Beginning ensembles make the most obvious progress—starting from zero, and performing jazz and blues tunes within a few months, including improvising… More subtle skills are also tackled, such as keeping track of the form, keeping the tempo steady, improvising with rhythmic variety, and learning how to interact with your bandmates."
The combos have encouraged students to find and build their own self-empowerment while sharing the love of their instrument. "As I play along, either with a group or with a recording," says jazz student and drummer Gavin Bollar, "I am constantly experimenting and trying new things… This process is made much easier when in a jazz group setting because I'm around my peers and coaches who provide advice that will stay with me for the rest of my life."
ZZ Sayeed, a student who plays upright bass in the RSC jazz ensembles, says: "Performing with this combo is genuinely so fun… Everyone is listening to what each person is playing and in turn adapting what they are doing to make the group sound better. In my basslines, I try to emphasize certain beats by pulling harder and also outline where we are and where we are going in the song."
Jazz students have also workshopped their skills by attending monthly RSC Jazz Jams. This recent addition to the program is a series of jam sessions open to all RSC students, even if they are not already in an RSC jazz ensemble. Pianist Charlie Tandon, who plays in the jazz ensembles, said, "The monthly Jazz Jams were very fun because I got to play with new musicians who had different styles and strengths. It was sort of a practice for going to a professional jam session."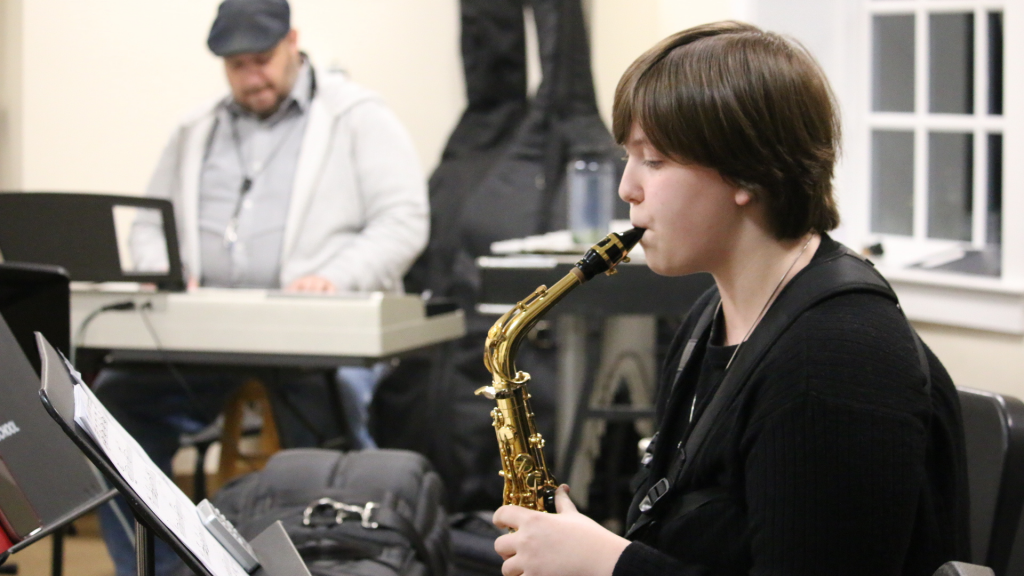 The Jazz Jams introduce students to tunes they may be unfamiliar with, which encourages them to apply ensemble and improvisational skills they gained in the combos they meet with regularly. "This kind of on-the-spot pressure really puts us to work, helping us learn and perform well under pressure," says faculty member and saxophonist Andy Voelker.
"Adaptability is constantly necessary as the students learn, arrange, and improvise the music," says Voelker. "I hope that through learning music from different cultures, students will build a reverence and understanding of other cultures to help enrich their lives."
By expanding their knowledge of the world through jazz and collaboration, students in RSC's jazz programs are making a creative impact and have so much to look forward to as they continue their artistic journeys.