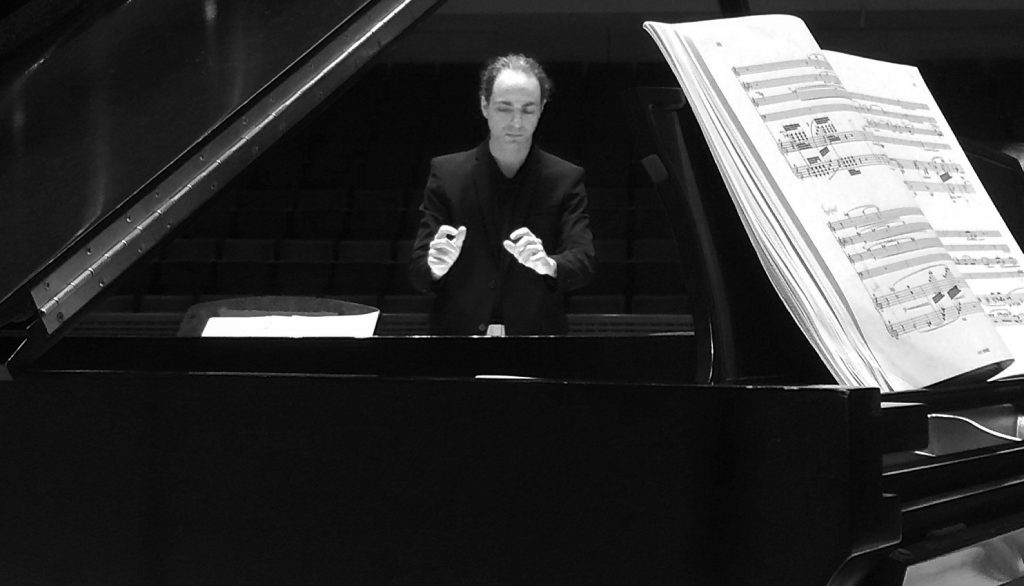 The Rivers Symphony Orchestra (RSO) has a new leader: This fall, Peyman Farzinpour has taken the baton as conductor of the RSO! The ensemble began rehearsals on September 9th, and preparation is well underway for its first concert of the season on November 24th.

In addition to his work with the RSO, Farzinpour serves as Artistic Director and Conductor of Ensemble/Parallax, a professional contemporary music group which performs 20th century and contemporary music with multimedia in Providence, RI. He also teaches conducting, composition, counterpoint, and music history as an Assistant Professor at the Berklee College of Music in Boston.

The process of finding and selecting Farzinpour as RSO's new conductor was highly competitive. The extensive search for Farzinpour's prestigious post began with 24 people and narrowed to three qualified and impressive finalists.

Each finalist then conducted an RSO concert after presiding over more than a half dozen rehearsals with the 40-member ensemble. Conductor Search Selection Committee Chairman Bruce Goody, who is also the RSO's principal flautist and general manager, was impressed with Farzinpour from the very beginning. "When you have a brand new conductor, it takes time for everyone to warm up. He seemed to warm up and be amenable from the very first rehearsal," Goody recalled. "From the first moment that he came in and gave us the downbeat, he had a look of control, emotion, and the confidence of knowing what he was doing." Goody also praised Farzinpour for his deliberate style and his depth of knowledge about music composition and history.

Following this initial set of rehearsals, Farzinpour conducted the RSO in concert on May 12th at the New England Conservatory's Jordan Hall. The piece he selected was Felix Mendelssohn's Symphony No. 3 in A minor Op. 56, which is also known as the Scottish. "He had a vision for us," raved Goody. "We were a better sounding orchestra than before he started working with us. He made suggestions that enhanced our level of playing." At this performance, Farzinpour also conducted concertos performed by the two student winners of the Rivers Symphony Competition: Camille Saint-Saëns Piano Concerto No. 2 in G minor Op. 22 by pianist Ethan Wood and a Dmitry Kabalevsky cello concerto by Andrew Y. Kim.

As the orchestra launches its 23rd year as a musical performance opportunity for talented adult and advanced students in the community, Goody says, "We are dedicated to working together and improving our musical abilities to give the best concert we can." To find dates for RSO concerts coming up, visit the RSO web page.