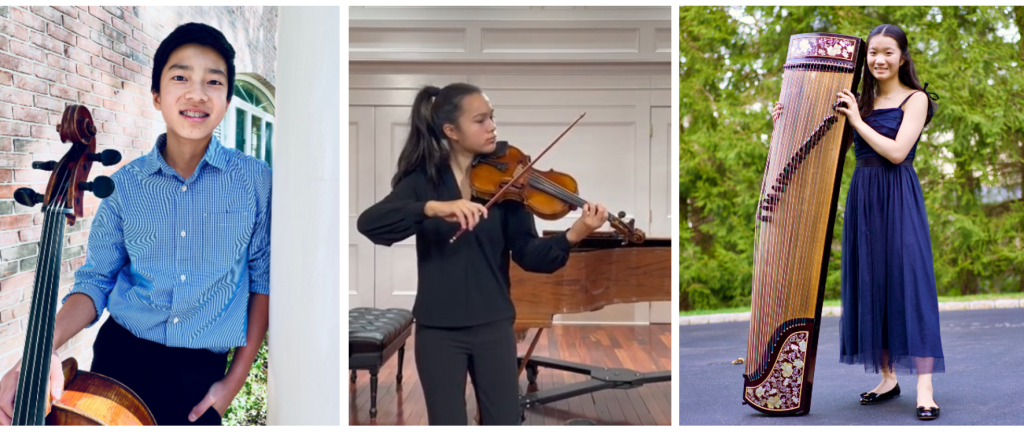 The Rivers School Conservatory had a spectacular showing at the Boston Pops' Fidelity Investments Young Artists Competition this year, taking three of the four grand prizes. Congratulations to Andrew Kim (15, cello student of Ron Lowry), Fei Yang-Sady (14, violin student of Jin-Kyung Joen), and Adalia Wen (14, guzheng, piano student of Sandra Hebert)!
The Fidelity Competition is designed for talented high school instrumentalists and vocalists—including both soloists and ensembles of up to five members—to compete performing music of any genre. Up to four acts are selected each year to perform at a Boston Pops concert during the Spring Pops season. Winners get the opportunity to work with world-class musicians from the Boston Pops and receive one-on-one coaching with Maestro Keith Lockhart in preparation for their performances.
To take home one of these prizes is a remarkable achievement, but to collect three of four is truly astonishing. Not only did all three RSC musicians play beautifully, but they carried themselves with poise and maturity. Fei Yang-Sady—a student of Jin-Kyung Joen and the winner of the 2021 Rivers Concerto Competition, Richter Competition, and NEC Solo Strings Competition as well as the Fidelity Competition—recalls how inspired she was by the event. "It was an incredible experience to play on the stage of Symphony Hall for the judges, and all the finalists sounded amazing. I am extremely honored to be among the winners this year." Like her co-winner Adalia Wen, Yang-Sady is a member of the ChamberMusicLab at Rivers, and she has organized concerts to raise funds and increase awareness on behalf of the Greater Boston Food Bank. "Music can bring people together," she says, "and I am looking forward to sharing Tchaikovsky's exciting Valse-Scherzo with the audience."
"It was such an honor," recalls Andrew Kim. "It was so exciting to be given this opportunity and I feel so lucky to be able to play with one of the best orchestras in the country!" For Kim, the Fidelity win is the capstone on a remarkable year. He won the Dr. Carol Vasconcellos Youth Concerto Competition at the Brockton Symphony in October and was runner-up for the New England Philharmonic and Concord Symphony concerto competitions among others. Kim was chosen for the second round of the Junior International Tchaikovsky Competition that was scheduled for May in Moscow but has been postponed indefinitely due to the invasion of Ukraine.
For Kim, the true impact of the experience ran much deeper. "While it's wonderful to win a competition, I have realized that music is more about personal growth and the journey rather than one specific moment. I am so thankful for this amazing opportunity, as it will help me to keep growing as a musician with the help of various mentors. I am so excited to work with Keith Lockhart and the Boston Pops over the next several weeks!"
Adalia Wen's route to Symphony Hall stage for this competition was more circuitous. Wen is a freshman at The Rivers School and a member of the Conservatory Program, and like Andrew Kim she has had an impressive year with competition wins including a triumphant performance of the Saint-Saëns Piano Concerto No. 2 with Christopher Memoli and the Rivers Symphony Orchestra as the Senior Division winner of the RSC Concerto Competition. However, instead of highlighting her formidable chops and consummate musicality at the keyboard, Wen opted to compete playing the guzheng—a traditional Chinese instrument that resembles a large zither—a choice she made, she explained, both to highlight her heritage and to stand out from the competition. "I had more to say about the guzheng—not just what it means for me but what it means for the instrument and the culture. There's a lot of historical significance to the piece I played, and in my essay [for the Boston Pops], I tied it to my identity as an Asian American." To read more about Adalia Wen's Fidelity journey, click here.
Congratulations to the 2022 Fidelity Investments Young Artists Competition Winners!