Jazz Trumpet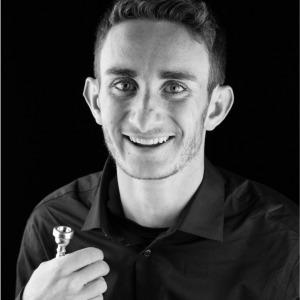 Ryan is a multi-faceted artist and educator whose work challenges the role art plays in one's personal growth. As a composer, much of his work combines his passion for positive change with his passion for stretching the limitations of art; this is demonstrated in his recent collaboration, The Ohm Project. The Ohm Project raised awareness for various social justice themes and allowed viewers to form new relationships to them through an interactive viewing experience.
As a trumpet player, Ryan's playing spans many different styles. Recently, he completed a world premiere run of Esperanza Spalding and Wayne Shorter's opera Iphigenia at the Majestic Theater; here, he performed alongside Esperanza Spalding, John Patitucci, Danilo Perez, and Jeff "Tain" Watts. He also recently completed another world-premiere performance of Linda Chase's oratorio, 'For Our Common Home', which received praise from the Vatican. Aside from these performances, Ryan has also played with numerous orchestras, big bands and pit orchestras at the Palace Theater, the Grand Ole Opry, Jordan Hall, Boston Symphony Hall, and others.
As an educator, Ryan has taught private lessons for eight years to students from ten different countries spanning ages 8 to 68. He utilizes a strong sense of creativity as a large part of his teaching process, believing that it is the most effective medium to more individually connect with students. Many of his influences in teaching and pedagogy come from some of his past educators, including Eric Berlin, John McNeil, Ben Wright, and Roger Farnsworth. He holds a MM from the New England Conservatory and a BM from UMass Amherst.