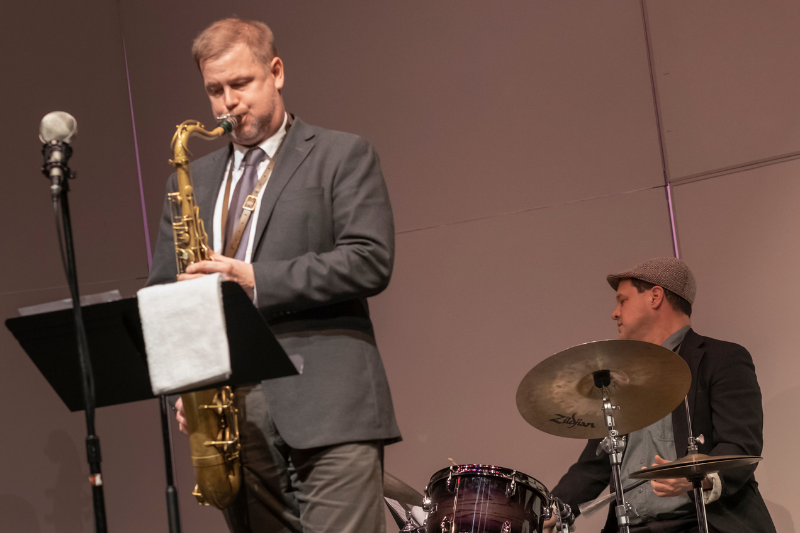 It's going to be a busy year for Bill Jones. Between playing more than 100 gigs a year around Boston's best jazz venues, the Rivers School Conservatory Jazz Saxophone instructor will be filling in for RSC Jazz Director Philippe Crettien when he goes on sabbatical in the spring of 2020.
Jones, who performs at Wally's Jazz Café, Ryles, The Beehive, Beat Hotel, and Lilypad, and teaches at the University of Rhode Island, has been playing the saxophone since age 10 when a solo in the Billy Joel song "Just the Way You Are" caught his ear. "I was practicing multiple hours a day right from the start," he remembers.
He participated in jazz band and concert band in high school, but believes he would have benefited from the rich offerings of RSC if he had had that opportunity. "Being able to take ear-training classes is really special," he says. "I would have loved it during high school."
Jones started out teaching private lessons at RSC in 2005. He currently teaches theory and private lessons and directs the Middle School Jazz Band. "I get to share what I'm passionate about," he notes. "I can guide my students and give them recordings that inspired me." He enjoys it when his students take those suggestions to the next level, telling him about composers they like and then bringing him their own compositions.
"Passionate" is the word Jones's students use to describe him. Jazz saxophone player Will Randall, 16, only played piano when he first met Jones five years ago and was participating in the Rivers Middle School Jazz Ensemble. "Hearing him play got me curious about saxophone," he remembers. "I talked to him about it, and he recommended music for me to listen to like 'Kind of Blue' by Miles Davis and 'Giant Steps' by John Coltrane." He now plays tenor sax in Rivers Honors Big Band and Rivers Select One Combo.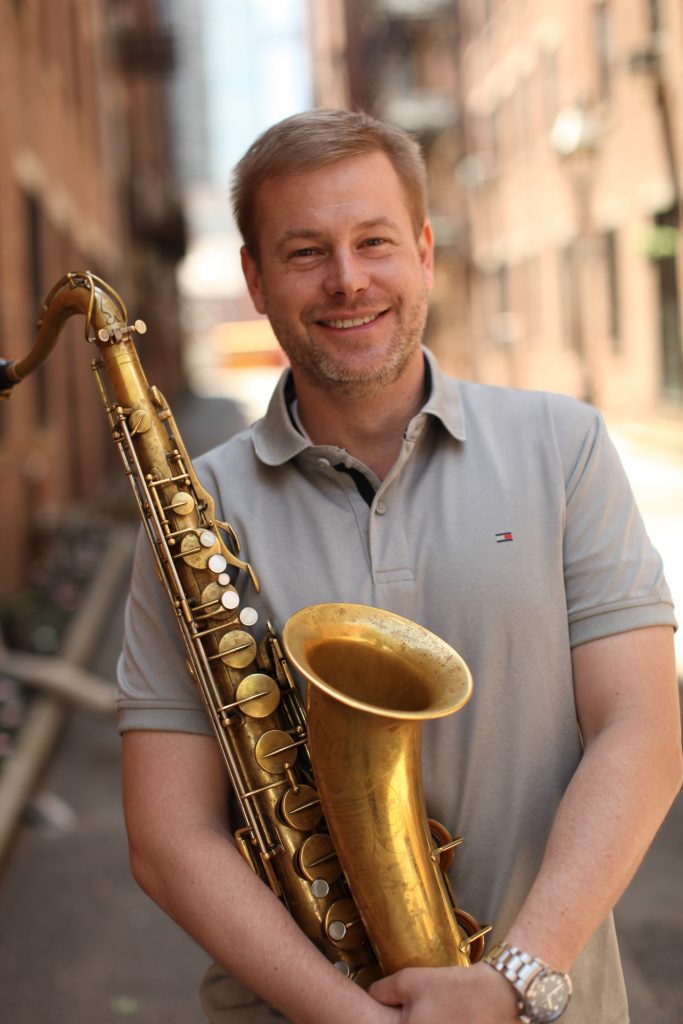 Jonah Berg, 17, credits Jones with helping prepare him for jazz ensemble before he started at the Rivers School in ninth grade. "I needed to be at a certain level, and he got me there. He has a drive to make you better. He knows what clicks for you." Jonah is now part of the Honors Rivers Jazz Band and takes private lessons with Jones.
Jazz drummer Michael Manasseh, 18, has been one of Jones's students since he joined a jazz ensemble led by Jones in fourth grade. "It was through that ensemble that I started to get serious about jazz music," Michael remembers. "Bill connects with his students. I've had many conversations with him about jazz, and he has taught me so much." Michael now takes transcription with Jones as part of the Conservatory Program at the Rivers School. "As a jazz musician you can't do it without it," he says. He appreciates how Jones treats him as a colleague, inviting him to play with him at Wally's Jazz Café a half dozen times. Michael is currently in Rivers Honors Big Band and Select Combo One at RSC. He is going to Columbia University in the fall.
This summer, Jones will teach both two-week sessions of Summer Jazz at Rivers. "It is more of an immersion because the students are doing 90-minute combo rehearsals and clinics every day and private lessons twice a week," he says. "They have to be focused because they have to perform in two weeks." He likes seeing the great progress the students make in the summer when their focus doesn't compete with academics.
Jones is proud that some of his RSC students have been admitted to prestigious programs like New England Conservatory and have gone onto pursue professional music careers. His advice to RSC students hoping to make music their life's work is for them to practice several hours a day, learn the fundamentals, study the history of music, and keep an open mind to different kinds of music. "If you want to do this, your mind has to be really set on it," he recommends.
Learn more about Bill Jones and RSC jazz ensembles. It isn't too late to sign up for Summer Jazz at Rivers. Session I is July 8-19 and Session II is July 22-August 2.