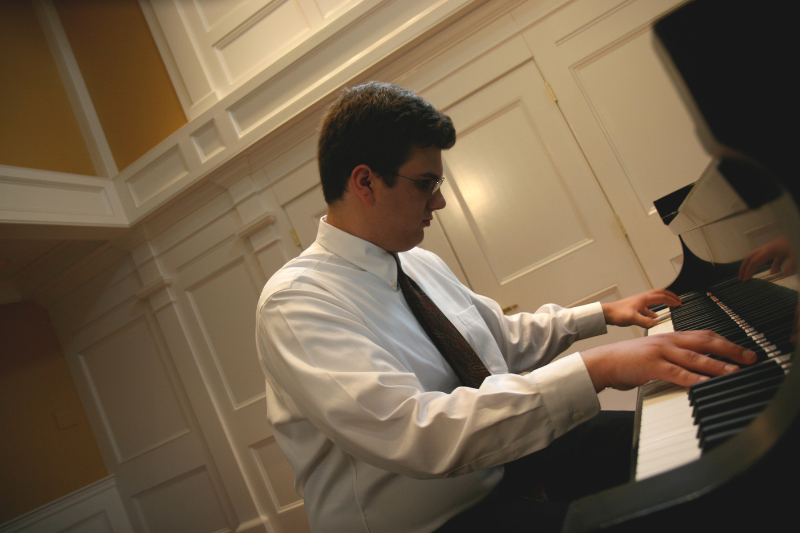 The Rivers School Conservatory alum Evan Rees, 28, has played piano on the London stage in a theatrical production of "Into the Woods" and was part of the Broadway production of "The Visit" with the legendary actress Chita Rivera. The successful musical theater conductor and pianist credits RSC with giving him the foundation for the work he does today. "I am part of an industry where my whole job is to listen to my collaborators and support them," he says. "Playing in Rivers chamber music groups gave me away to strengthen that muscle and learn how to be part of a group."
Evan is still in touch with the RSC instructors he worked with, including Dan Loschen and A. Ramon Rivera. "Dan gave me tools for thinking about music to understand how it works, what makes it tick, and how to bring it to life from a dramatic standpoint," he remembers. He started working with Dan when he first came to RSC at age 11 to study piano with someone skilled in both classical and jazz music.
Evan also has fond memories of the connections he made with his fellow students. "Having a place like RSC where there were other kids who were also passionate about music was very important," he notes.
The collaborative nature of musical theater fuels Evan's love of the genre. "There are so many people involved in so many disciplines coming together with all their expertise to create this one thing," he says. "I love being part of the greater whole."
Evan is currently working as the conductor and associate music director of the musical "Grand Hotel"in Arlington, Virginia. There are less than three minutes of dialogue without music in the show, so Evan and his fellow musicians are playing nearly the whole time during the 105-minute production.
"The Visit" was Evan's first Broadway experience. "The people involved were incredible. To even be tangentially involved was thrilling and gave me respect for the people who were doing what I want to be doing," he says. The 2015 production featured Chita Rivera and the late Roger Rees.
Evan recalls "Into the Woods" as his most fulfilling artistic experience to date. The London and U.S. national tour productions required Evan to be part of the onstage production. "My piano was, in someways, the engine of the production. It was part of the set and they pushed it around," he recalled. "I was integrated into the company in a way you are not when you are sitting in the pit." He also relished the opportunity to interact with the Stephen Sondheim score.
In addition to being a pianist, music director, conductor,and vocal coach, Evan is also a teacher. He joined the musical theater faculty at the Manhattan School of Music in September of 2018.
For more information on Evan Rees visit his website.