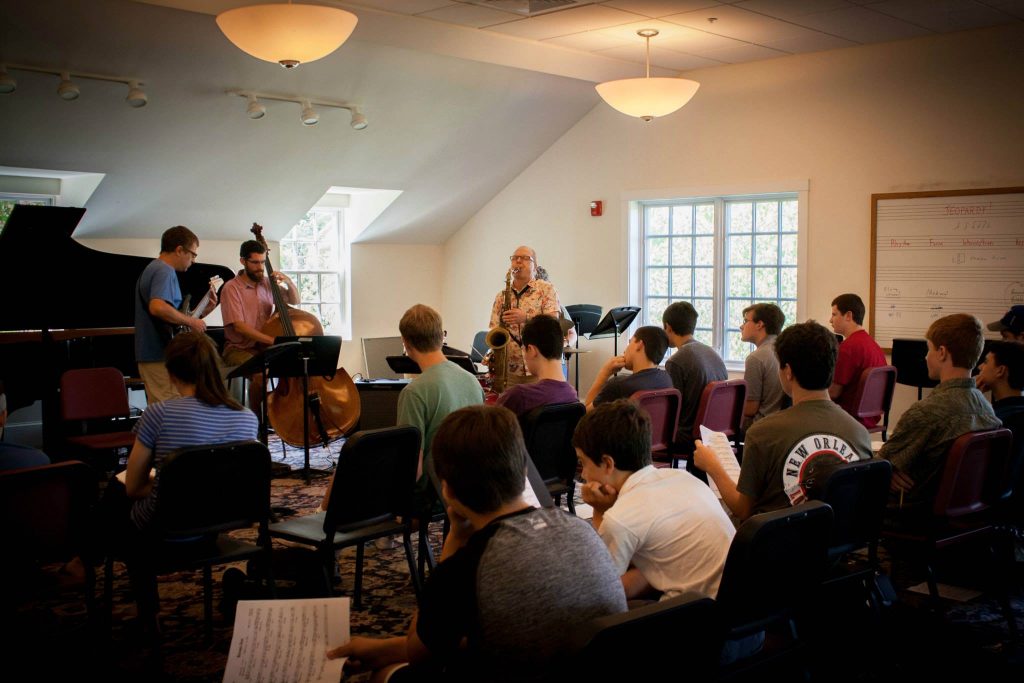 The Summer Jazz program—one of several summer offerings at The Rivers School Conservatory—provides participants with two weeks of daily combo rehearsals, improvisation classes, and electives with the Boston area's finest jazz instructors. For some, it can also serve as a pathway to the Conservatory Program, a Rivers School program that provides talented students with a way to spend their high school years immersed in both rigorous academics and music instruction at the highest level.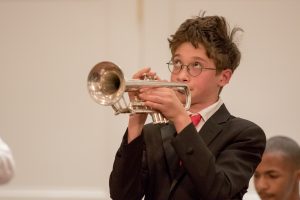 For Ian Behrstock '22, participation in Summer Jazz between sixth and seventh grades was the first step toward pursuing intensive jazz studies at Rivers. Behrstock found himself pleasantly surprised by the enthusiasm and skill level of his peers. "It was a great opportunity to meet new people and be with other jazz musicians who were my age," he recalls. "This was my first time working with kids of different levels in an organized setting and benefiting from master classes, music theory, and exposure to different types of jazz music."
Connecting and collaborating with like-minded peers, he says, was one of the most inspiring and motivating elements of the program.
His private lesson instructor, jazz trumpet player Tony D'Aveni, echoes this sentiment. (All Summer Jazz students are paired with an RSC faculty member who provides four 60-minute lessons over the two-week session). "I like Summer Jazz because it attracts students who genuinely love jazz and want to play it, even if it means missing out on fun, sun, and swimming. It's very satisfying for someone who likes jazz to be with other people who like jazz," says D'Aveni.
After the summer program ended, Behrstock chose to continue his lessons with D'Aveni. It was D'Aveni who suggested that Behrstock apply to The Rivers School, where he would have access to a broad range of resources, including the Rivers Honors Big Band and the Conservatory Program, all within his school community. D'Aveni says that Behrstock's decision to attend Rivers and join the Conservatory Program was one of his proudest moments as his teacher: "I knew it was the best thing for him musically."
Behrstock confirms that this has indeed been the case. He reflects, "Coming to Rivers has opened up so many doors for me as a musician. I remember playing with Rivers students for the first time at my revisit day and being completely blown away because they were much more skilled than anyone I'd ever played with before. I think back to that memory, and I feel like I've made significant leaps and bounds in my ability and my knowledge since then."
To learn more about Summer Jazz, as well as Summer Music, Summer Percussion Workshop, and Summer Orchestra at RSC, visit www.riversschoolconservatory.org/summer.