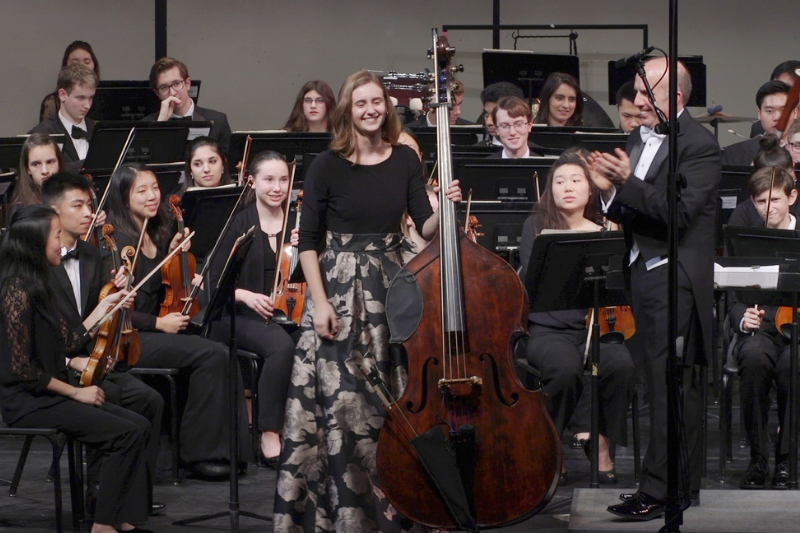 Although it took an act of courage to walk into her first Sinfonia orchestra practice, doing so transformed Lindy Billhardt from an eighth grade student who played double bass (because her parents told her to) into a true musician.
"The feeling of musical purpose overpowered me," Lindy says. "This passion united everyone in the room. Embracing my new environment, rather than rejecting it, fueled in me a new interest in music." On the ride home she told her mother with excitement, "We sounded like a real orchestra!" Suddenly she found herself practicing because she wanted to, listening to recordings of the repertoire the orchestra was playing and counting down the days until her next rehearsal. Now an 18-year-old senior at The Rivers School, Lindy has been part of Rivers Youth Symphony for three years and is planning to study music performance when she goes to college. "I cannot fathom what my life would be without music," she says.
Seventeen-year old Ethan Wood has been attending RSC for 10 years. The Dover Sherborn High School junior plays violin for the 90-member Rivers Youth Symphony. "You learn a lot being in an orchestra and making sound as a whole group," he says. "It's a friendlier, less competitive atmosphere, which makes it more fun." Wood is also an award-winning pianist.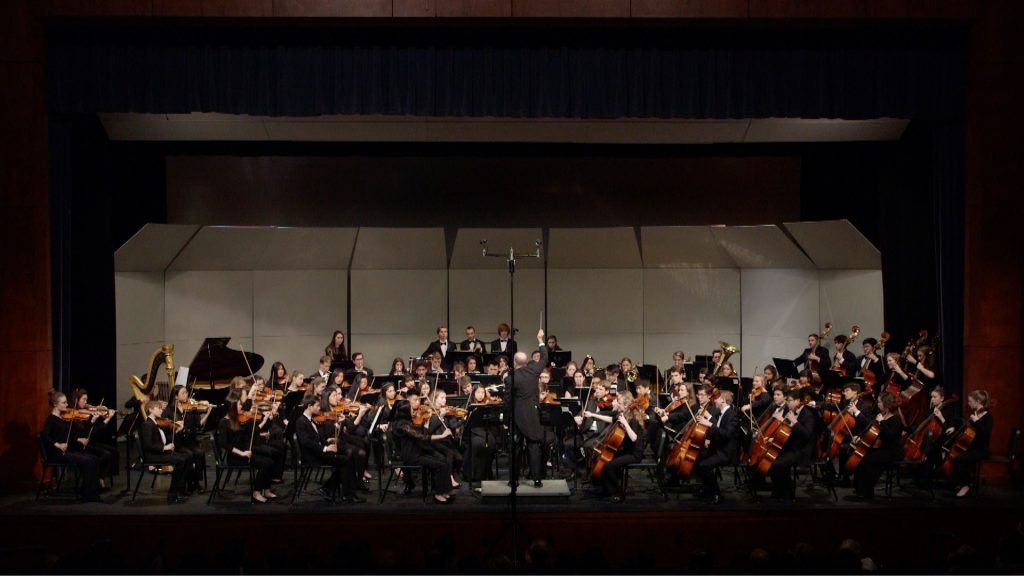 The students' successes don't come without nerves. Both Ethan and Lindy admit to being nervous when performing, be it solo or with the orchestra, but say the sense of accomplishment after the performances are worth the pre-show jitters. Lindy says she relishes the opportunity to be a role model for younger RSC students who aspire to play in Rivers Youth Symphony one day.
There was just one orchestra when Chris Memoli, Music Director of Rivers Youth Orchestras, joined RSC 18 years ago. Now there are five orchestras, from the advanced Rivers Youth Symphony to the Primo Orchestra filled with students who are just beginning to play in an ensemble.
"Even though we push the kids, we have this warm, friendly, nurturing atmosphere," Memoli says. He says some people initially wondered if having all the orchestras rehearse concurrently on Fridays would work. "People thought I was insane, but it turns out to be the best time," Memoli laughs. "We're trying to make music at the highest level, but we don't forget that it's Friday afternoon." That's when bursts of music come from every corner and a jumble of open music cases and coats are tucked into various floor spaces throughout the building, left by students excited to rehearse.
Memoli says the break taken during orchestra rehearsal is an important part of the experience. "I like the social atmosphere," he notes. "They talk and they bond." Lindy agrees. "Breaks allow everyone to breathe for a second," she says. "It's nice to catch up with everyone and then refocus for the rest of the rehearsal." Ethan values having friends in the room. "In the orchestra there are a lot of people that I've been able to make connections with and that is nice."
The Rivers Youth Symphony has its Spring Concert on Sunday, May 12 at 2 p.m. at Jordan Hall. Learn more about Rivers Youth Orchestras.