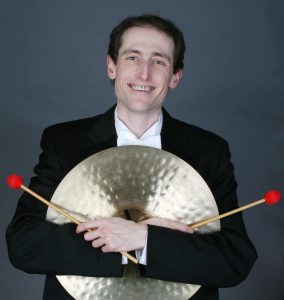 Percussion, Marimba
Timur Rubinshteyn holds a DMA in Percussion Performance from Boston University. He teaches percussion at Boston College, plays principal timpani for the Atlantic Symphony, and freelances with many regional orchestras.
Timur completed his Bachelors and Masters at New England Conservatory, where he received Zildjian Award for Excellence in the Art of Percussion. He was also a joint winner of the commencement competition (performing solo with the NEC Honors Orchestra) and one of two members of the graduating class awarded the Gunther Schuller Medal for Outstanding Contributions to the Life of NEC. He attended Aspen Music Festival, Music Academy of the West, Schleswig Holstein Musik Festival, National Orchestral Institute, and Tanglewood Music Center.
Formerly Timur was the percussion coach and assistant conductor of the NEC Youth Symphony, and managed the orchestra's tours of Italy, Greece, and Costa Rica. Other tours included Israel, Italy, Germany, Austria, Switzerland, and France. From 2012-16 he was on the percussion faculty of the NEC Festival Youth Orchestra.
Currently Timur coaches percussion with the Tufts Youth Philharmonic, and teaches at Concord High School, Carlisle Middle School, Norwood High School, Coakley Middle School, Belmont Day School, and Common Time Music Studio Summer Chamber Workshop.