Violin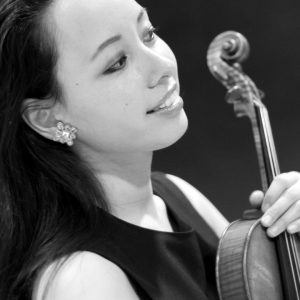 Julia Meynert, born in Bochum, Germany into a German-Japanese family on June 16th, 1986, got her first violin lessons at the age of 5 with Sigurd Josbaecher. Later she took lessons with Siegfried Rivinius, the first concert master of the 'Deutsche Oper am Rhein' in Duisburg. When Julia was 14 her whole family moved to Mannheim so Julia could continue her musical education. She then joined the class of Prof. Roman Nodel at Mannheim University of Music and Performing Arts in Germany. At the age of 16 she started her "Diplom Künstlerische Ausbildung" in the class of Prof.Nodel. In 2006 she moved to Vienna, Austria, to continue her studies with professor Pavel Vernikov at the Vienna Conservatory (Musik und Kunst Privatuniversität der Stadt Wien). From 2005 to 2008 Julia commuted between Germany/Austria and Italy for additional lessons at the Scuola di Musica di Fiesole and the Scuola di Musica di Mantova in Italy with professor Pavel Vernikov and Oleksandr Semchuk. In June 2010 Julia Meynert earned her Bachelor's diploma at the Vienna Conservatory in the class of Prof. Zwiauer (First Concert Master, Wiener Symphoniker). In August 2010 she moved to New York City. In December 2011 she earned her Performer´s Certificate in the class of Prof. Yi-Wen Jiang (2nd violinist of the Shanghai Quartet). In 2013, Julia joined the class of Masao Kawasaki in New York.
Julia won 1st prize at the Landeswettbewerb Jugend Musiziert in 1998 and 2001 and 3rd prize at the Luigi Nono Competition in 2008.
In 2010 Julia Meynert performed as a substitute (1st violin) of the Vienna Philharmonic Orchestra.
As a soloist Julia performed with the orchestras Philharmonic Orchestra of Baden-Baden (Germany), KKO chamber orchestra (Kurpfaelzisches Kammerorchester, Germany), the Academic Symphony Orchestra of Kiev (Ukraine), Jackson Heights Orchestra (New York), and the Town and Country Symphony Orchestra of St. Louis.
In February and April 2017 Julia performed live and gave a live interview on the radio station "Las Tres Jotas" in NY. In August 2018 Julia had an interview and airing of her recordings on the radio station RAF in St. Louis.
Julia regularly performs with the Music for Life International Philharmonic at Carnegie Hall.
In summer 2008 Julia was invited to perform as the principal second violinist in a chamber orchestra at the Oleg Kagan Festival in Germany which was run by cellist Natalia Gutman where Ms.Gutman joined the stage. In July 2013 Julia was invited to perform at the renowned "Lockenhaus Festival" in Austria.
Julia was a violin faculty at The Palisades School of Music in New Jersey from 2012-2017 and at the Performing Arts Conservatory of New York from 2014-2017. Julia joined the faculty at the Dana Hall School of Music this year in Wellesley, Massachusetts and also at Dexter Southfield School in Brookline, Massachusetts.
Julia performs with pianist Riko Higuma in a Carnegie Hall concert scene in the movie "Love is Strange" by renowned film director Ira Sachs, together with Hollywood actors Marisa Thomei, John Lithgow, and Alfred Molina.
In summer 2017 Julia and pianist Gerald Robbins were filmed for the documentary TIME by film producer Vienzenz where they perform many works by Viennese composers. The movie was premiered in October 2018 at the "Topkino" in Vienna, Austria.