Trombone, Jazz Ensemble Coach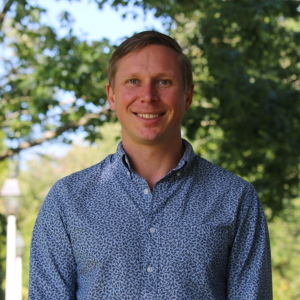 Clayton DeWalt is one of the most sought after freelance trombonists in New England. He is equally at home in a section or as a soloist, and has made a career of studying and performing virtually all styles of music.
Growing up in rural Western Pennsylvania, Clayton began playing music with his father on piano, and then picked up the trombone at age 10. He immediately loved the horn and never put it down. In addition to his school band, he was lucky to be able to play in his father's jazz band, learning the tricks of the trade from experienced pros on the bandstand. Clayton performed all throughout high school, even performing in South Africa on an ex-pat's homecoming tour.
Clayton enrolled at Slippery Rock University to study music education, while he continued to gain valuable experience performing in the Pittsburgh area freelance scene. He also began teaching privately and in summer jazz camps, where his love for teaching first developed. After graduating and freelancing in Pittsburgh for about a year, Clayton moved to Boston to attend the New England Conservatory of Music, where he earned a master's degree in jazz performance. While at NEC, Clayton studied under the brass legend Laurie Frink, as well as with John McNeil, Norman Bolter, Andre Hayward, Steve Davis and Frank Carlberg. He studied the music of the Balkans and began performing in Balkan brass groups regularly. Clayton was accepted into the Doctor of Musical Arts program at NEC, and is pursuing that degree currently.
Clayton has performed across the globe in venues ranging from Birdland to the Monaco Opera House, and festivals ranging from Newport Jazz to Montreaux Jazz. He has performed and recorded with many major artists and bands, including Toshiko Akiyoshi, Carol Bailey, Big Gigantic, Randy Brecker, Anat Cohen, Pee Wee Ellis, Greg Hopkins, Dave Liebman, Mike Manieri, Cecil McBee, Robin McKelle, Bob Moses, Fred Wesley, Nancy Wilson, The Artie Shaw Orchestra, The Gene Krupa Orchestra, John Brown's Body, The Temptations, Regis Philbin, and many others. Clayton can be heard playing regularly with the BTALC Big Band, Cocek! Brass Band, The Duppy Conquerors, The Felipe Salles Interconnections Ensemble, and many other groups in the Boston area.
Clayton has always been committed to teaching musicians young and old, and currently holds positions at the Rivers School, Lincoln Public Schools, Babson College, Catholic Memorial and the Maynard Schools.