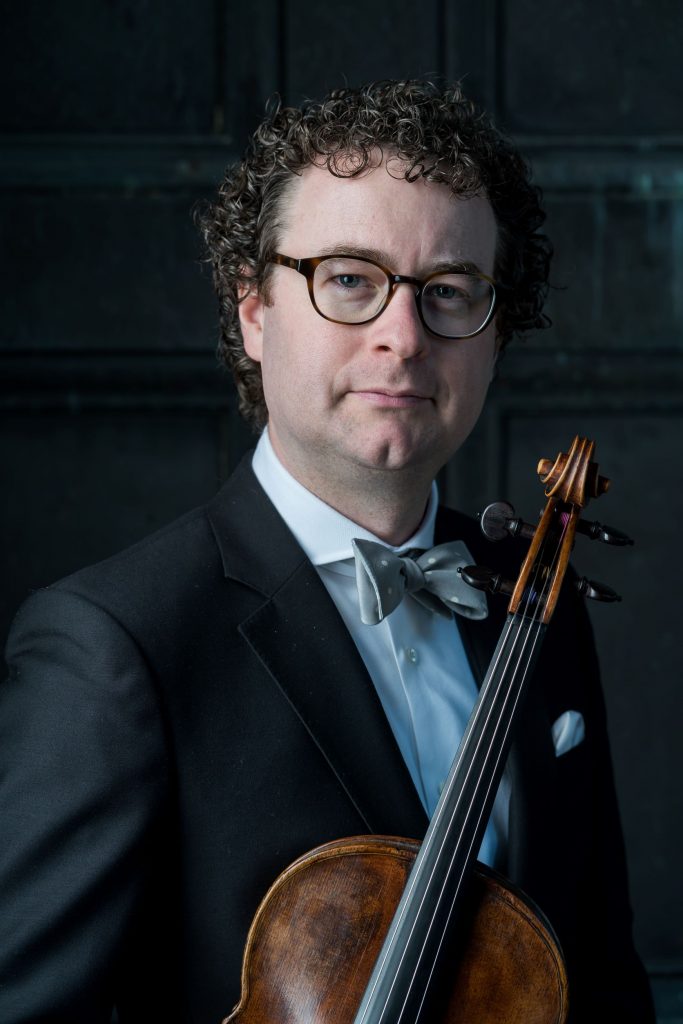 New RSC faculty member Jason Fisher comes from an impressive lineage of musicians. His great-great aunt, Francis Tanner-Lester, was a violinist and one of the first female concert masters in an American orchestra. His grandfather is a vocalist and organ teacher, who runs a successful music school. To foster a love for music, Jason's grandmother frequently took him to the symphony and opera in Seattle and ensured that he had piano lessons.
However, it took a few tries before Jason found his footing with music. He explains, "I just wasn't that into the piano. After the instrument petting zoo in elementary school orchestra, I thought I might try out clarinet or violin. But when my teacher asked if I would try out the viola, everything clicked into place. I was hooked."
Jason's interest in viola grew over the years through lessons, summer programs, and youth symphonies. He became even more serious about music, especially chamber music, in high school and went on to earn degrees at the Peabody Conservatory and the Longy School of Music.
A "watershed moment" in his music career happened as an undergraduate student when his string quartet was accepted into the Carnegie Hall Fellows Program, a collaboration at the time between Carnegie Hall and the U.S. State Department. Each year, the organization sent select chamber music groups to a different part of the world. Jason's quartet was sent to perform in Kazakhstan and Kyrgyzstan.
"That tour was an amazing experience in understanding the power of music and seeing how music brings people together and transcends differences," he says, recalling a particularly moving concert in a remote mountain village. "We played a piece of music written by Prokofiev, which included Central Asian folk songs. The audience broke into song during the folk song parts. Then, they played for us. It was a beautiful exchange and solidified my love for chamber music as a vehicle of expression and communication."
A pre-tour workshop on self-directed orchestra playing turned out to be another watershed moment because, years later, Jason became a cofounding member of A Far Cry, a self-directed orchestra in Boston.
Jason explains, "The self-conducted orchestra is a very successful model for empowering musicians because everyone is encouraged to share ideas and rock the boat. We rotate playing in different chairs and sections, so we 'live, breathe, and die for each other' on stage. We give ourselves over to whoever is leading in that moment and do everything to empower them because eventually we will be in that leadership position."
He notes that this dynamic model is entertaining to watch in action. "The audience can see us communicating throughout the concert and watch as the leadership jumps around the ensemble. I love the unpredictability of being on stage and the suspense of what will happen next. Looking out at the audience and seeing someone absolutely absorbed in the music is extremely rewarding."
In addition to performing, Jason has a passion for teaching. At RSC, he is part of the ChamberMusicLab faculty, coaching students on Saturday mornings. He sees his role as two-pronged: 1) to work with students to improve their skills; and 2) to teach them techniques so they can rehearse and continue improving on their own (without a coach or conductor).
He draws on his experience with A Far Cry for his teaching philosophy, focusing on the development of self-confidence and experimentation so a student can find their own unique voice. "I want my students to feel empowered to take the next step with a piece and dig deeper. I want them to be excited and inspired to do that work."
Jason adds, "I came to RSC because it is in the top echelon of music schools for students who are committed to music at this level. My happy place is coaching chamber music, and I am thrilled to be a part of this community."
-By Meghan Laska