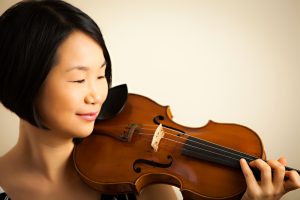 Violin, String Department Chair
Violinist Jin-Kyung Joen has performed extensively in Italy, USA, Poland, Greece, and Korea for various music festivals and concert series. In addition to serving on the violin faculty of the New England Conservatory's Preparatory School, as well as the Killington, Foulger and Bosa Antica (Italy) music festivals, Ms. Joen recently served as the Artistic Director of Project STEP, a string training and education program for students from underrepresented communities.
Ms. Joen's students have been top prize winners in regional, national, and international competitions, including first prize in the BSO Concerto Competition, Arthur Grumiaux Competition (Brussels, Belgium), Alexander and Buono (NYC), and all the categories of NEC Prep Concerto Competition. Her students also gained acceptances to undergraduate and graduate programs in conservatories, music colleges, liberal arts colleges, international music festivals, as well as top level youth orchestras.
Ms. Joen holds a Doctor of Musical Arts from Boston University, an Artist Diploma from the Boston Conservatory, and a Bachelor of Music from the Conservatorio di Piacenza, Italy. Since 1996 she has been a member of the violin faculty at the Preparatory School of New England Conservatory.