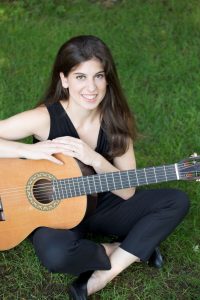 Classical Guitar, Suzuki Guitar

Classical guitarist Catherine O'Kelly performs both as a soloist and as a member of Tedesco Duo with flutist Arielle Burke. A former Suzuki student at The Rivers School Conservatory, she is delighted to now be teaching Suzuki guitar at Rivers.
Catherine earned her BA in music and philosophy from Vassar College in 2011, graduating with honors, and earned her MM in guitar performance in 2013 at The Hartt School, where she studied classical guitar with Richard Provost. Currently Catherine is pursuing her Doctor of Musical Arts degree in classical guitar performance at The Hartt School in West Hartford, CT. She earned a position with The Hartt School's Honors Chamber Music Program, Performance 20/20, providing her a full scholarship for her doctoral studies.
In addition to creating Guitar Weekend, Catherine has performed and taught at many local music festivals, including The Connecticut Guitar Festival and The Latin American Music Festival. She frequently collaborates with other local musicians and groups such as Boston's Cantata Singers, and she serves on the board of the Boston Classical Guitar Society.