Suzuki Violin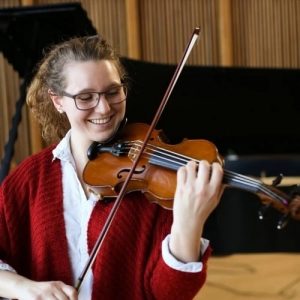 Cassandra Moore Lyons is a versatile performer with a broad educational background. Cassandra began Suzuki violin lessons at age four and has carried her joy for the instrument with her through college and beyond. Cassandra pursued her bachelor's degree from Gordon College and continued her master's studies in performance and long-term Suzuki pedagogy training at the Hartt School under Teri Einfeldt and Anton Miller.
Cassandra has appeared in solo and collaborative performances throughout New England and abroad, in Hong Kong and South Korea. Cassandra has expanded her performance repertoire to include opera works, quartets, and premiers of orchestral works. Cassandra has mentored orchestra students throughout the New England and greater Princeton, NJ areas.
Cassandra has enjoyed building relationships with students from Connecticut, Vermont, Massachusetts, and New Jersey. She has guided classrooms, group ensembles, and individual students through the Suzuki repertoire, music theory and literacy, and music history courses. Cassandra believes in the importance of encouraging students to play with a beautiful heart and to work together to achieve beautiful music. Cassandra incorporates elements of mindfulness to help her students develop effective practice habits while learning to use technology appropriately. Cassandra lives in Gloucester with her family and Boston Terrier, Captain. In her free time, she likes to cook and practice yoga.