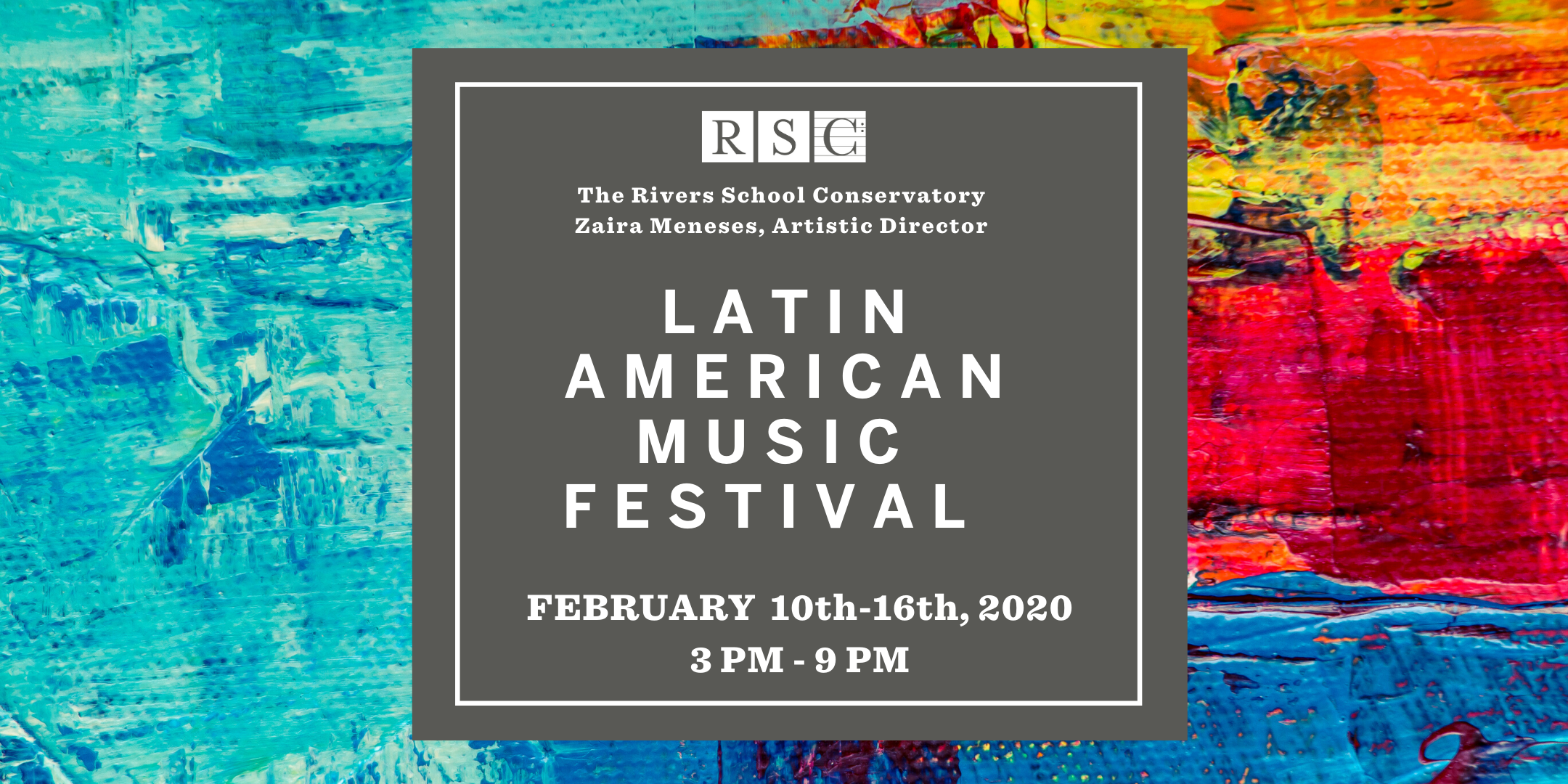 Latin American Music Festival at The Rivers School Conservatory
Monday, February 10th – Saturday, February 15th, 2020
From concerts to classes, the Latin American Music Festival will be an exciting week of education and cultural exchange at RSC.
The Festival will include composition classes and guitar ensemble rehearsals, a master class by Sharon Isbin, evening performances, and more. Register via Eventbrite for the full week (as either a non-RSC student or RSC student), or reserve tickets for the evening concerts that you wish to attend:
Monday, February 10th at 7:30 PM: RSC Faculty Concert
Tuesday, February 11th at 8 PM: Venezuelan Concert with Luis Zea, Tibi Zea, and the Alexis Soto Trio
Wednesday, February 12th at 7:30 PM: Mexican Concert with The Kao Guitar Ensemble (Soloist Zaira Meneses )
Thursday, February 13th at 7:30 PM: Cuban Concert with pianist Anibal Cruz
Friday, February 14th at 7:30 PM: Registered Festival Students Concert
Saturday, February 15th at 7:30 PM: Eliot Fisk Concert
---
Artistic Director Zaira Meneses is an internationally-acclaimed classical guitarist and guitar instructor at The Rivers School Conservatory. Through her entrepreneurial musicianship, she has emerged as an ambassador for and link among intellectuals from México, where she grew up, and the U.S, where she currently lives and teaches.
Featured Guest Artists Include:
Eliot Fisk
Sharon Isbin
Anibal Cruz
Lizary Rodriguez
Kao Ensemble
Luis Zea
Alexis Soto
Arístides Llaneza
Participating Faculty from The Rivers School Conservatory:
Robert Lasher
Zaira Meneses
Catherine O'Kelly
Sarah Tenney
Philippe Crettien